Watch a Shroud of Cold Air Descend Across the Country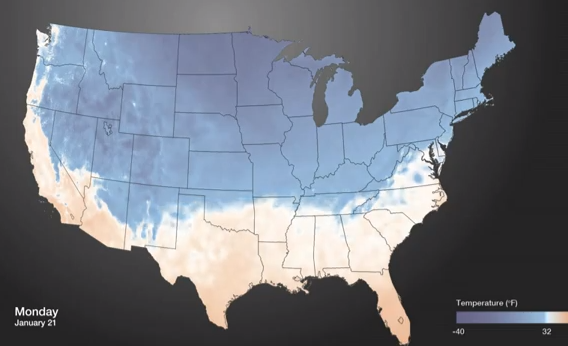 As anyone north of Florida has probably already pieced together for themselves by now, this week has been a bitterly cold one for most of the country. The bad news: The frosty weather is expected to stick around over the next few days for much of the country. The good news: NOAA has this rather awesome-looking video of how the cold air spread. It's probably not an equal tradeoff for those of you living in Crane Lake, Minn. (where the mercury fell to negative-35 degrees Fahrenheit on Tuesday), but, hey, at least it's something.
TODAY IN SLATE
Foreigners
The World's Politest Protesters
The Occupy Central demonstrators are courteous. That's actually what makes them so dangerous.
Federal Law Enforcement Has Declared War on Encryption
Justice and the FBI really do not like Apple's and Google's new privacy measures.