Manti Te'o Says He Briefly Played Along With Hoax: "You Know, What Would You Do?"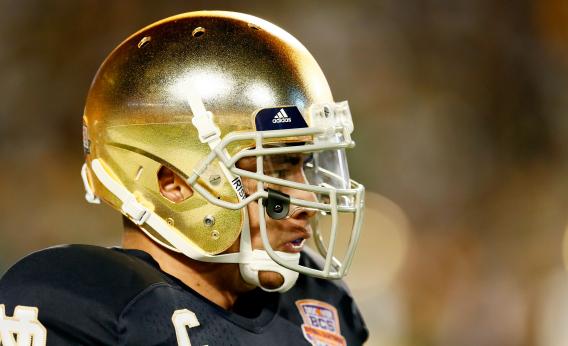 ABC's Good Morning America brings us our first look at Manti Te'o on-camera since the bizarre story of his literally unreal dead girlfriend broke last week. The big takeaway from the excerpts of his sit-down interview that will air in full tomorrow on Katie Couric's syndicated talk show: The Notre Dame star admits to briefly lying to the press and public about his fictional online girlfriend after learning that she did not exist but steadfastly maintains that he was the victim of a hoax he had no part in creating.

"Katie, put yourself in my situation," Te'o said. "My whole world told me that she died on Sept. 12. Everybody knew that. This girl, who I committed myself to, died on Sept. 12."
He went on to say that he didn't figure out the truth until Dec. 6, when the people behind the hoax called him, claiming that (the fictional) Lennay Kekua was still alive. "Now I get a phone call on Dec. 6, saying that she's alive and then I'm going be put on national TV two days later. And to ask me about the same question. You know, what would you do?" Te'o said, referring to what he said was his decision to publicly play along with the hoax during media interviews in between then and when the story broke more than a month later.