With Te'o Keeping Quiet, the Internet Keeps Digging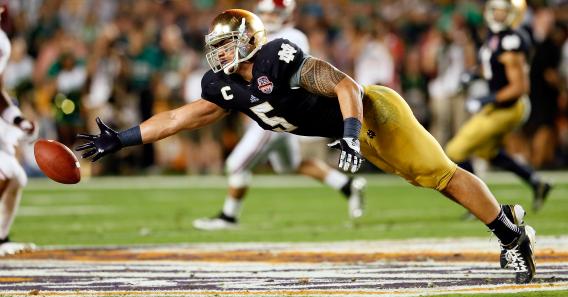 It's been two days since Deadspin dropped its bombshell report about Manti Te'o's fake dead girlfriend on South Bend and the rest of the sporting world, and we're all still waiting to hear from the Notre Dame star himself. We're also waiting to hear from two other key people believed to be involved in the hoax in some capacity or another: Ronaiah Tuiasosopo, the alleged friend of Te'o's currently believed to be mastermind behind the entire scam; and Diane O'Meara, the woman whose photos were apparently used as a stand in for the very unreal Lennay Kekua, Te'o's fictional girlfriend who was falsely reported as dying of leukemia.
On Wednesday, hours after the story first broke, Te'o released a statement through his agent but other than that has remained silent. There was initially talk of a TBA press conference, but that has yet to materialize; same with subsequent Twittter rumors about a one-on-one sit-down with a single reporter. The press has so far been unable to track down Tuiasosopo for comment, and those reporters who have managed to find O'Meara (the woman believed to have been originally given the pseudonym "Reba" when she spoke off-the-record to Deadspin) have been greeted with some variation of "no comment" or "talk to my lawyer."
You'll find a few of the more noteworthy latest developments below. All appear to shed a little more light on this bizarre story but all also raise even more questions than they answer. The most suspicious nugget has to do with Te'o playing along with the story for so long, while the most tabloid-y no doubt has to do with Tuiasosopo apparent unrelated attempt at fame.

Te'o, who says he was the victim of a "sick joke," repeatedly played along with the story in the weeks between when he says he learned Kekua wasn't real and when the story broke. ESPN:
Multiple media outlets have found numerous instances of the Notre Dame linebacker talking about Lennay Kekua as if she had existed after Dec. 6, the date that he and the university say he found out that the girl that he thought he was having a relationship with and who died of leukemia was made up.
At the Heisman Trophy presentation Dec. 8 in New York, ESPN's Chris Fowler asked Te'o what moment of his very public story of tragedy he would remember.
"I think I'll never forget the time when I found out that, you know, my girlfriend passed away and the first person to run to my aid was my defensive coordinator, Coach [Bob] Diaco, and you know he said something very profound to me," Te'o said.

Tuiasosopo recently auditioned for NBC's The Voice and came armed with his own "sob story," according to Us Weekly:
"He had this insane sob story before [he sang]," an insider reveals to Us. "It would make for great TV."
According to the source, Tuiasosopo told producers he and his cousins started a Christian band together and were on their way to perform at a youth conference in Nevada when they got into a "massive" car accident. He claimed a truck crashed into their vehicle, sending them flip-flopping all over the freeway. He also said doctors thought one of them might have been brain-dead, but miraculously, everyone was fine.
Inside Edition says it has IDed the face of Kekua, 23-year-old Diane O'Meara. According to KCAL9 in California, O'Meara currently works in marketing in Los Angeles. That tidbit combined with earlier reports that she is friends with Tuiasosopo have some suggesting that she may have played an active role in the entire thing, although that remains to be seen. Her silence could just as easily be a result of her being unprepared for the media attention after having her identity originally shielded by Deadspin when she recounted how her pictures were used without her knowledge, like in the case of this Inside Edition crew that caught up with her outside of her place of work:

Te'o may not have been the only one to "date" the fictional Kekua, according to Catfish director Ariel Schulman. ABC News:
"Catfish" movie director and actor Ariel Schulman told "Good Morning America" today that he believes there may have been "a few other people duped by the fake Lennay character." Schulman and his brother Nev Schulman have been looking into the elaborate scam and claim to be corresponding with various players involved. They have come to believe that there were "a lot of other people that she was corresponding with before and maybe even during her relationship [with Te'o]."
Obviously, it's still way too early to make heads or tails out of the whole thing. For now, everyone seems to agree that it was a hoax. But when it comes to exactly what role Te'o—and even O'Meara—played in this whole thing, your guess is as good as mine until we finally hear from the major players. When that will happen remains to be seen.