Obama Says He's Got "Bigger Fish To Fry" Than Recreational Pot Smokers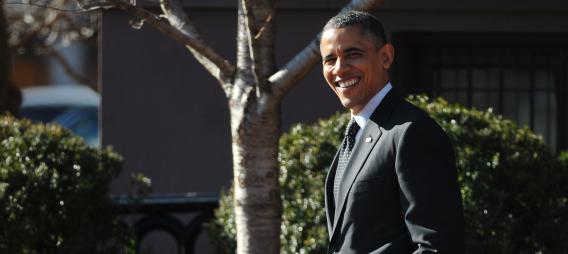 President Obama sat down with ABC News Barbara Walters for a holiday season interview that will air in full later today. The major newsy nugget (no pun intended): The president doesn't sound like a man who has any plans to aggressively target pot smokers in Colorado and Washington, the two states that recently voted to legalize recreational marijuana use.

"We've got bigger fish to fry," Obama said, adding: "It would not make sense for us to see a top priority as going after recreational users in states that have determined that it's legal."
Obama's comments come the same week that his attorney general, Eric Holder, said that he would announce a new policy on the state laws "relatively soon." If the administration opts to more or less leave recreational users alone in Washington and Colorado it would mark something of a change in posture toward legal marijuana, as the Washington Post explains:

Under Obama, the Drug Enforcement Administration has aggressively gone after medical marijuana dispensaries in California, where they are legal. In September, federal officials raided several Los Angeles shops and sent warnings to many more.

Here's how Holder explained where things stand with the Colorado and Washington laws on Wednesday:

"We are looking at those two initiatives those two statutes and trying to determine exactly how we will respond and expect we will be doing so relatively quickly," he insisted. "There are a number of issues that have to be considered among them the impact that drug usage has on young people, we have treaty obligations with nations outside the United States, there are a whole variety of things that have to go into the determination that we are in the process of making."
And here's a clip from Obama's ABC interview: