Is This What It Looks Like To Win a Nearly $300-Million Powerball Jackpot?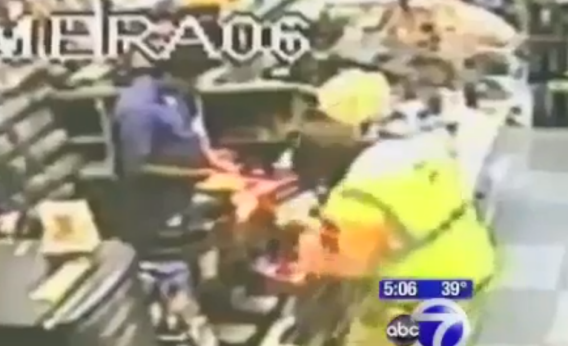 There were two winning tickets sold for Wednesday's $587.5 million Powerball jackpot, and so far we only know who holds one of those tickets: Mark and Cindy Hill of Dearborn, Missouri. The other ticket was sold in Arizona. So before I show you this clip from a Maryland convenience store that's been making its way around the Internet today, I want to make it very clear that the man in the video seen reacting like he just found out he won nearly $300 million may very well be pulling an elaborate prank or even be having one pulled on him.
That said, ABC News and its affiliates have gotten their hands on the surveillance footage, and it sure does appear to show a man who is acting like he's the second, yet-to-be-announced winner. The man reacts pretty much like many other people would in that situation. He freaks out. He has as many people as he can double-check the numbers to make sure he's not going crazy. They confirm he's not. He freaks out some more.
(Personally, I'm a little more paranoid and would have rushed back to my home, locked the doors, turned off the lights, closed the blinds and then began going about double-checking the ticket and calling a lawyer. Later, when the time was right, I'd phone my friends from an undisclosed island in the south Pacific and tell them that it had been nice to know them. But that's just me.)

All right, so we're all on the same page here about this being an unconfirmed story, yes? Good. With that in mind, here's the WABC-TV report, which comes with its own disclaimer that the man is a "possible" winner. The freak-out isn't quite as cinematic as you may be hoping for but how many chances do you get to (maybe) see something like that captured on tape? (h/t Gawker)