New York City's "Forgotten Borough" Speaks Out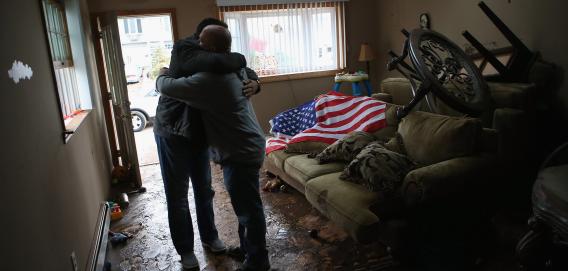 Among the stories of gas shortages, Red Hook destruction, and the Lower Manhattan blackout, the New York City borough of Staten Island hasn't been mentioned much since Superstorm Sandy came a calling earlier this week. Residents there—where almost half of the storm's NYC victims perished—have noticed.
A number of frustrated Staten Islanders spoke to the major news networks yesterday, somewhat complicating the "recovery" narrative that is emerging in most of the national post-Sandy coverage of the city as basic services like transportation and power start to come back online. CBS News:

Some residents have been calling the area "the forgotten borough." ... Residents are outraged, claiming their community has been ignored in the days following Sandy while aid pours into other parts of New York and New Jersey. Natvel Pritchard, of Staten Island, said, "Though people don't talk about Staten Island much, people are here, a lot of people are hurting, so it's upsetting."
Power is out, hundreds of homes have been destroyed, and dozens of streets are impassable.

One particularly sore subject appears to be the New York Marathon the city seems determined to have on Sunday, which kicks off on Staten Island's Verrazano-Narrows Bridge. CBS again:

Resident Nicole Malliotakis said, "We are far from fine and the fact that the mayor wants to have a marathon this weekend when we have people who lost either their lives or lost their entire house. I mean, it's unbelievable to me."
And here's the NBC video with more: