Fox Goes Fishing For a Jobs-Trutherism Hearing [Update: And Comes Up Empty]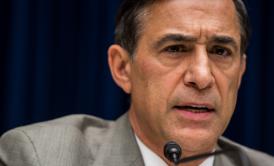 Update: Issa's office is now saying that despite Fox reporting that "Chairman Issa says he wants to have hearings" on the September jobs report, the chairman made no such statement and has no such plans.

"While Chairman Issa, in response to a question asked yesterday, did state that he believes there are legitimate questions about the Department of Labor's method for calculating unemployment, the Oversight Committee has not announced or decided to hold hearings on the September unemployment report," an Issa spokesperson told Politico Thursday evening. "Chairman Issa specifically pointed to the frequent revisions that the Department of Labor often makes to its own numbers in questioning whether more can be done to ensure that they accurately reflect the state of our nation's job market. At no point did he say he has made plans to convene a hearing on this subject."
Original post: It looks like we haven't heard the end of last week's bout of jobs trutherism. The good news, however, is that a leading House Republican appears to be suggesting the topic be put on hold until after the election—something that may suggest just how unlikely an investigation is to discover foul play.

Here's what Rep. Darrell Issa, the GOP chairman of the House Oversight Committee, told Fox Business on Wednesday after being asked about the possibility of holding hearings on September's stronger-than-expected jobs numbers. (As you'll hear in the video embedded below, the Fox host explains they've been "asking around" to see if "anyone wanted to hold hearings."):
"The way it is being done with the constant revisions, significant revisions, tells us that it is not as exact science as it needs to be and there's got to be a better way to get those numbers or don't put them out if they're going to be wrong by as much as half a point."
Fox's Greta Van Susteren later pressed on with the fishing expedition to pin down a commitment for a hearing, which drew this response from Issa: "We very much intend to work every day through November and December to get these kind of things done. We're hoping that this is a good nonpartisan time." That response was enough for Fox to report that "Chairman Issa says he wants to have hearings on this."

As you can see from his comments, Issa didn't go as far as former GE CEO Jack Welch and co. in suggesting that the numbers had been intentionally manipulated by the Obama administration. He also stopped short of trumpeting his plans for a formal investigation, as he has done in the past with other controversial topics, most notably with his ongoing feud with the Justice Department over the Fast and Furious gunwalking scandal.
He did, however, appear to suggest that the monthly BLS data—which is widely used as an economic benchmark by financial analysts, the press and politicians of all stripes—is so unreliable that we'd all be better off if it weren't released at all until after the department is finished making revisions. Perhaps more importantly—politically speaking at least—is that any hearing on the data is sure to include Welch or someone from his camp, meaning that we can look forward to reliving what has been a widely-discredited conspiracy theory about White House manipulation of the numbers, albeit after the election.