Mei Xiang Snaps National Zoo's Panda Offspringless Streak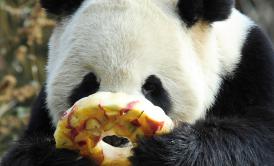 Washington's National Zoo got a giant surprise Sunday night when the zoo's seven-year streak without panda offspring came to an end. The Washington Post with the details:

"The National Zoo's female giant panda gave birth to a cub Sunday night, stunning and delighting zoo officials and sparking a new wave of panda mania in Washington seven years after the zoo's only other cub was born in 2005. The new cub was born at 10:46 p.m. to Mei Xiang, the zoo said, and curator Becky Malinsky happened to be watching the 24-hour-a-day panda camera feed and heard the first squealing of the newborn."
The birth caught pretty much everyone off guard, in large part because it is apparently more or less impossible to tell for sure whether a giant panda is pregnant ahead of time. Making things that much more of a shock in this case was Mei's past history with false pregnancies dating back five years.

Mei had been artificially inseminated at the end of April after she and the zoo's male giant panda failed to get things done on their own. The zoo went into around-the-clock pregnancy watch about two weeks ago, but only because that was standard operating procedure.