Don't Look Now But Todd Akin Has Crept Back Into the Missouri Senate Race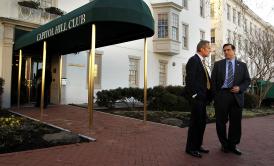 "We're going to be here through the November election, and we're going to be here to win."
Those were the words of Republican Rep. Todd Akin late last month as he vowed to press on with his campaign to unseat Democratic Sen. Claire McCaskill in Missouri, despite being abandoned by pretty much his entire party after his "legitimate rape" comments dominated a week's worth of news cycles.
Well, don't look now but Akin appears to have climbed his way back into the race despite the battering he's taken from both sides of the aisle.
McCaskill enjoyed leads of nine and ten points in a pair of polls taken last month as Akin was being hit from all sides. But the two most recent polls show a different story, with Akin clawing his way back within one point of the Missouri Democrat in the (liberal-leaning) PPP survey and into a three-point lead in the (conservative-leaning) Wenzel Strategies poll.