Storm Update: Isaac Expected To Soon Be Hurricane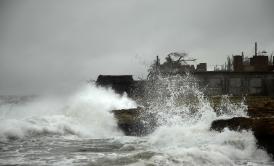 Tropical Storm Isaac is still churning ever closer to the Gulf Coast, and remains on track to earn the official title of hurricane later today shortly before making landfall along the Gulf Coast either late tonight or early tomorrow.

According to the National Weather Service, Isaac's maximum sustained winds are right around 70 mph, just shy of the 74-mph threshold that needs to be crossed to be deemed a Category 1 hurricane. The storm's current path has it headed pretty much straight for Louisiana.

Here's the latest from the AP: "Isaac was on the verge of ballooning into a hurricane Tuesday that could flood the coasts of four states with storm surge and heavy rains on its way to New Orleans, where residents hunkered down behind levies fortified after Katrina struck seven years ago this week."

President Obama is set to make a statement about the storm at around 10 a.m. today.