We Can Now Officially Call It Hurricane Isaac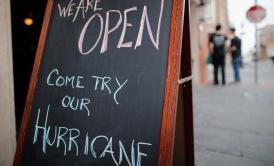 That's Hurricane Isaac, to you.
The National Weather Service says that the storm's maximum sustained wind speed has now reached 75 mph, above the 74-mph threshold needed to be declared a Category 1 hurricane.
Here's what the government says that means we can expect, in terms of potential damage from the wind: (Note: This obviously doesn't include any damage from the flooding that is expected to follow along the coast.)

"Very dangerous winds will produce some damage: Well-constructed frame homes could have damage to roof, shingles, vinyl siding and gutters. Large branches of trees will snap and shallowly rooted trees may be toppled. Extensive damage to power lines and poles likely will result in power outages that could last a few to several days."
Isaac's wind speeds are still increasing as it churns on toward New Orleans and the rest of the Gulf Coast. The next threshold it would need to cross to earn a cat-2 distinction would be 96-mph winds.