With Akin a No-Show, CNN's Piers Morgan Turns to Empty Chair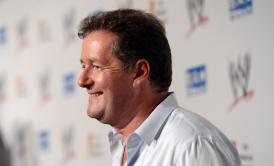 "If you don't keep your promise to appear on the show, then you are what we would call in Britain a gutless little twerp."
Those were the words of CNN host Piers Morgan last night after being stood up by Republican Senate candidate Todd Akin, whose staff failed to deliver on its apparent promise of a sit-down interview with the Missouri congressman.

Morgan went out of his way to make his displeasure with the no-show clear, opening his prime-time telecast with a shot of the empty chair that had been reserved for Akin. "Congressman," the host said addressing the absent Akin, "you have an open invitation to join me in that chair whenever you feel up to it." Producers continued to show shots of the chair in the corner of the screen with an "Exclusive" banner below (although the best we can tell Morgan never asked the swivel seat where it stood on "legitimate rape" and/or abortion).

"Why would he say yes then no?" Morgan asked. "We can only speculate."

The CNN host, who had been hyping his upcoming interview for much of the afternoon, also appeared peeved that his bookers technically went 0-for-2 when it came to the Missouri Senate race, mentioning that the woman Akin is challenging, Democratic Sen. Claire McCaskill, had already canceled on him earlier in the day.