Jeannine and Monét Give Us Hope for the World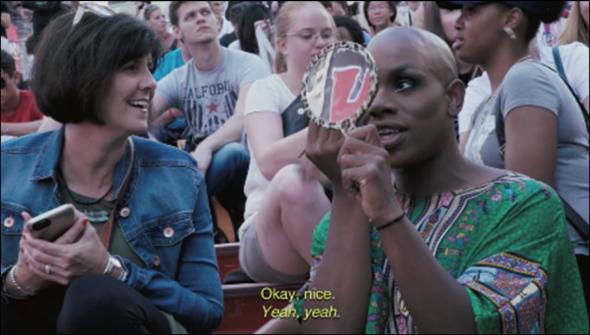 As we enter the final month before the election, the news can feel dominated by stories of people being awful to each other. (Who could imagine that one of the worst offenders of said awfulness would be a major party nominee for president? But I digress.) In such fractious times, it's good to be reminded that kindness, understanding, curiosity, and genuine human connection are still possible—and in the unlikeliest of places. Take, for example, this video:
Created by NYC-based drag queen Monét X Change, the "Street Beatz" short shows the performer getting in drag ("beating her face," in drag vernacular) in the middle of Times Square. Monét installs herself on the steps above the Broadway discount ticket hub TKTS, where she gets to work contouring and powdering and gluing in preparation for that evening's gig. At a certain point, a woman (later identified as Jeannine Glover from Tulsa, Oklahoma) approaches Monét to inquire about her process. The lovely exchange that follows is a joy to behold.
Of the encounter, Monét later wrote on Facebook: "With racial tension at a boiling point in this country, this beautiful white woman comes over with eyes of love and a heart of compassion to just 'make a friend.' And now we are bonded for life!" Monét invited Jeannine and her family to the show that evening, and they came—resulting in a far more interesting tourist experience than they probably would have had otherwise. So here's to the Jeannine's of the world; if we survive this election, we're going to need more like them.