Drag Race Is Back—But Is That Definitely a Good Thing?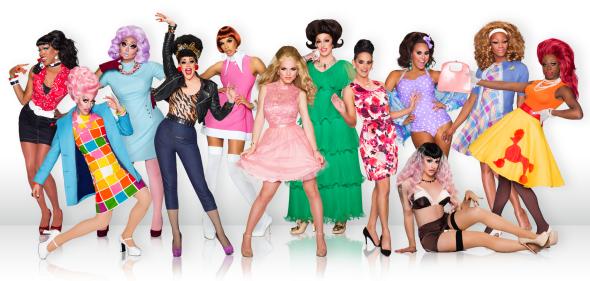 While responsible adults were waiting for the results of Monday's Iowa presidential caucuses, some of us were distracted by late-breaking news of another race—RuPaul's Drag Race. The eighth season of the wildly popular drag reality competition show isn't set to begin on Logo until March 7, but as in years past, Ru deigned to reveal her cast of queens a few weeks before the premiere. It was an important debut: Many fans (including this one) were largely disappointed by last season, which seemed to trade the delightfully rough edges of typical bar drag for a kind of overly polished, stylized simulacrum that ultimately left viewers feeling cold. (That I had to look up the winner, Violet Chachki, shows how little of an impression the season left.) After viewing the season trailer and individual queen introduction videos, I'm cautiously optimistic—while casting is only part of the equation of a successful season, it's a big part, and this cohort has promise.
Given that she is the drag mother of Outward contributor Miz Cracker, I'm obviously thrilled for the inclusion of Bob the Drag Queen, who is one of the cleverest girls working in New York right now. Often, Drag Race humor arises from the encounter between Ru Paul's worldly intelligence and some young queen's relative vapidity. That will not be a problem with Bob. I'm also excited by the inclusion of Acid Betty and Thorgy Thor, both of whom are well-known on the Brooklyn scene. Brooklyn girls and Manhattan queens like Bob don't always get along, so watch for some interborough shade as the season unfolds.
Other class members who caught my eye include Chicago anime doll Kim Chi, punk girl Laila McQueen, retro camp queen Robbie Turner, and nerdy Southern sister Dax ExclamationPoint. Season 7 felt overly interested in beauty and glamour, and while these ladies are all working great looks, it feels like there's more going on beneath the foundation this time around.
Season 8 also marks a rather remarkable moment in the history of Drag Race—and really of drag in general. As Ru indicates in the promo, this is the season where we will encounter both our 100th episode and our 100th queen. When you consider the size of the drag community relative to other artistic vocations, 100 queens is a nontrivial segment of the working population. Moreover, as a number of the queens reveal in their intro clips, Drag Race has been around long enough now to have inspired a whole generation of queens to attempt drag in the first place. For some—like alumna Jasmine Masters, who recently posted a video lambasting the show for having "fucked up drag"—the impact of this influence won't be seen as totally positive. Drag Race has undeniably prized the glamour girl over a much wider variety of drag performance over its history, and, as Masters points out, created a sometimes unfair economic hierarchy for those who can command a Ru-abetted booking fee—relative talent aside—and those who cannot. But if the show is responsible for getting stars like Bob into the game, it's doing good work.
Whether the new season will make for good entertainment remains to be seen, but you can bet your Kryolan stick that I'll turn up at the main stage in March to find out.