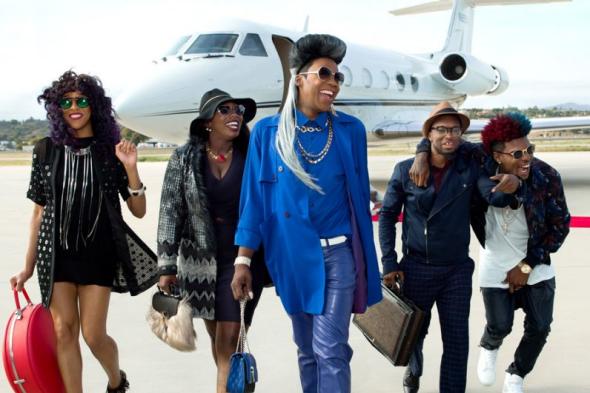 While prestige shows like Transparent, Orange Is the New Black, and Looking get all the glory, one could argue that these days, some of the best LGBTQ programming on TV—particularly for gender-variant folks and people of color—is happening in the often-mocked genre of reality shows. There's RuPaul's Drag Race, of course, which regularly offers up a tucked and painted menagerie of queer gender expressions under the banner of a drag competition. And then there's Oxygen's The Prancing Elites Project, a scrappy little series that follows an equally scrappy gay and trans black dance team from the deep South as they try to practice their art amid intense prejudice and personal challenges. Last, but definitely not least, is the Fuse network, which is offering two explicitly LGBTQ-themed reality shows this fall: Transcendent, a portrait of a group of trans cabaret performers, and Season 4 of an Outward favorite—Big Freedia: Queen of Bounce.
Freedia is one of the icons of a genre of raucous New Orleans-based music and dance called "bounce," and his show is ostensibly about the struggles of turning his small dance company and personal brand into a successful business. But just beneath that narrative framework, Queen of Bounce addresses a range of LGBTQ themes. Chosen family is the most prominent, since Freedia functions as something of a matriarch for his dancers, attempting to provide for them and keep them focused on the work despite difficult personal circumstances. Gender expression is also key: In the season premiere last week, Freedia visited an LGBTQ youth group in New York and was asked to share his "preferred gender pronouns." (Freedia, who identifies as a gay man, obviously styles himself toward the feminine end of the spectrum and goes by the nickname Queen Diva, so it's not a bad question.) "Whatever you choose," is Freedia's nonchalant answer—while she's perfectly comfortable with the many fans who use feminine pronouns, he'll also respond to a hey bro! when necessary.
This season, we'll presumably learn more of Freedia's life story; the artist is working with a co-author on his memoirs (and, this being a reality show, under an impossibly tight deadline for maximum drama). And with those revelations will come more insight into a unique queer life—a story that's all the more important to hear because it's real.
Catch Big Freedia: Queen of Bounce on Fuse Wednesdays at 11 p.m. ET/10 p.m. CT