Smithsonian Preserves LGBTQ History for a Post-Homophobic Future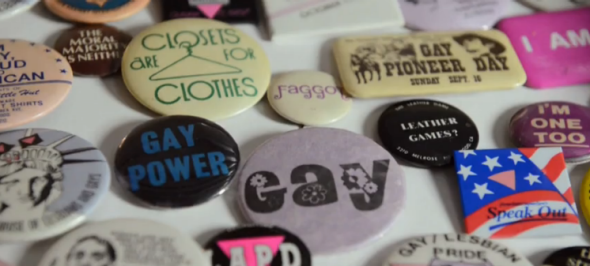 Earlier this month, the Smithsonian's National Museum of American History announced that it would be adding hundreds of new objects to its existing LGBTQ collection, including a tennis racquet from transgender trailblazer Renée Richards, the diplomatic passport of Ambassador David Huebner (the first openly gay ambassador confirmed by the Senate), and memorabilia from the groundbreaking NBC sitcom Will & Grace. And now, thanks to a great documentary short produced by MSNBC, those of us not in Washington finally have an opportunity to check out the new materials.
Predictably, some—like the Family Research Council's Tony Perkins—have criticized the museum for preserving the history of a group of people they'd rather forget; but as the MSNBC segment shows, museum curators aren't afraid of a little public pushback. Indeed, as archive specialist Franklin Robinson, Jr., explains, the collections are more about informing the future than pleasing the present:
50 years from now when LGBT civil rights will be something that we don't even think about, you know, people will ask, "Well, what was the big deal?" And you can say, "Here it is." These are the primary materials from which history will be written, and if you don't save it now, then it's gone.
Kudos to the Smithsonian for defending the view that "American history" must include all Americans.