Buddy Cole Butches Up the Sochi Olympics for The Colbert Report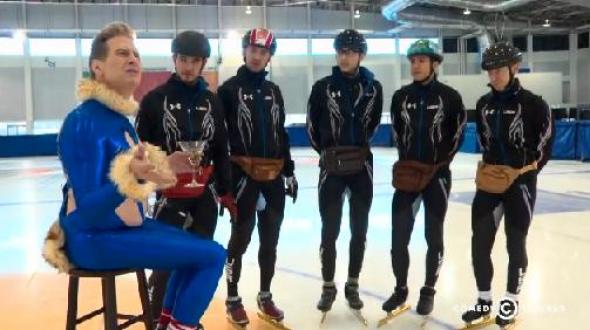 On Monday, The Colbert Report welcomed a special guest correspondent: The Kids in the Hall's Buddy Cole. Played by Scott Thompson, Cole will be covering the Olympics in Sochi in a rather more flamboyant way than NBC. Cole's dispatches have been dubbed, "From Russia with Love (But No Gay Stuff)."
For those unfortunate souls not familiar with the Canadian sketch show on which he frequently appeared in the 1980s and '90s, Charles Budderick "Buddy" Cole is a character created by Thompson, who is openly gay. Cole is known for his extended monologues on the show, in which he would hold forth on love at first sight, racism, and his good friend, the Queen of England (also played by Thompson).
A self-described "actor, singer, dancer—Canadian," Thompson-as-Cole is loudly and proudly effeminate. So it's a gutsy move for The Colbert Report to send him to a country whose anti-gay laws basically make it a crime to be gay in public. Never one to back down in the face of controversy, Thompson waltzes into Sochi with his head high and his hair coiffed. In the first segment that aired on Monday, Colbert asks Cole to go to Russia "to investigate the gay threat to the games." Cole obliges—"You say gay and athletes and I'm there!"—and sits down with a U.S. ambassador for Organization for Security and Cooperation in Europe, who is gay himself. ("Do your parents know?" "My parents do know." "And how did they take it when they found out you work for the government?") In the second clip, which appeared on Tuesday's program, Cole interviews the U.S. men's speedskating team—and takes to the ice in a royal blue leotard complete with a bushy fur tail in order to help the hapless boys butch up.
The Buddy Cole series is a fantastically subversive way for The Colbert Report to undermine Putin's dream of a heterosexual winter Olympics. (Which, fat chance.) As Cole writes in his autobiography, "My goal is not to shock and horrify, but to tell the truth. And if that truth shocks and horrifies, well … maybe you should get out more."