What's Keeping Jason Collins Out of the NBA? Homophobia Phobia.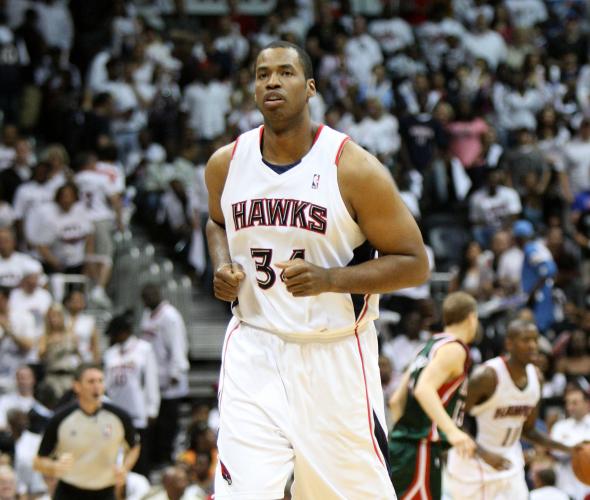 Several GMs said the aversion to Collins isn't over concern about how his sexuality will play in the locker room, but over the relentless media attention it will generate. "If it were just an initial blast and you knew it would settle down after that, it would be one thing," said one executive. "But you know this is something that he and his teammates are going to be asked about everywhere they go, all season long, and all it takes is one guy to say something a little off and it could really blow up. He's still good enough to play in the league, but when you throw in the ongoing media frenzy, most teams are going to decide it's just not worth it."
In other words, it isn't prejudice that's holding back Collins. It's the distraction he'd create. This would be bad for the team, outweighing what he'd contribute as a bench player. It's a basketball decision.
We've heard this reasoning before. It's what we hear every time an athlete challenges a social barrier. The team executives who shy away are good people. They believe in fairness and progress. They just don't want the headache.
That's what happened 70 years ago to Jackie Robinson. At the time, big-league baseball had no black players. A Boston city councilman, Isadore Muchnick, wanted the Red Sox to give Negro League players a tryout. According to Howard Bryant's Shut Out: A Story of Race and Baseball in Boston, Muchnick ran into resistance from the team's general manager, Eddie Collins, and its owner, Tom Yawkey.
In Bryant's account, Yawkey wasn't a bigot. He was just cautious. He "was a member of the infamous 1946 baseball steering committee that suggested too many blacks attending baseball games would scare away white customers and ruin the national pastime." Yawkey was a businessman. "He would follow the market instead of move it."
Muchnick had to threaten the Red Sox financially—refusing to let them play home games on Sundays—before they agreed to give Robinson and two other black players a tryout. Collins wrote an apologetic letter to the president of the American League, explaining that that baseball would probably have to deal with the race "issue."
The tryout took place at Fenway Park on April 16, 1945. Afterward, Collins told the three players they'd hear from the Red Sox, but the team never contacted them. Joe Cronin, the team's manager at the time, later recounted that after the tryout, "We told them our only farm club available was in Louisville, Kentucky, and we didn't think they'd be interested in going there because of the racial feelings at the time." Not until 1947 did Robinson finally debut with the Brooklyn Dodgers.
Jason Collins isn't Jackie Robinson. Collins is old for his sport and a lesser talent. His ability to contribute to a team at this point in his career, as my Slate colleague Josh Levin points out, is limited. Many basketball GMs say that's what will keep Collins out of the NBA. And if that's all there is to it—if Collins isn't as good as other players who could fill that 11th or 12th roster spot—fine.
But if there's more to the equation, that's another story. If Collins' on-court value is being weighed against social factors such as "media attention," teammates being "asked about" him, and the risk that a controversy will "blow up," then that's not just a basketball decision. That's a decision to duck the perils of breaking a cultural barrier. It's a decision to let other people's discomfort with a certain kind of athlete dictate whether that athlete gets a job. It's what happened to Jackie Robinson in 1945. Don't let it happen to Jason Collins in 2013.