L.A.'s New Ad Campaign Has a Message for Tourists: This Isn't Trump's America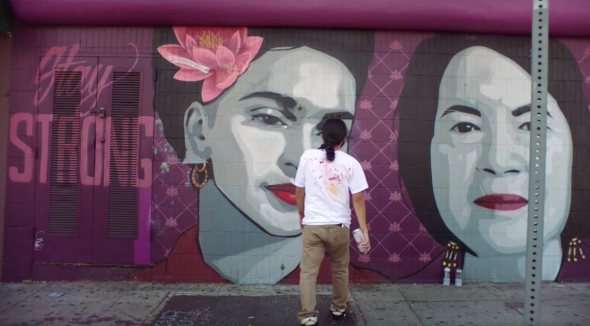 Like a college admissions brochure, the advertisement for Los Angeles parades the city's diversity. As in the actual Los Angeles, no one seems to be working, no one is wearing a suit, and everyone is hanging out outside. It's a tourism ad, but there's no Disneyland, no Griffith Observatory, no Getty. It has no dialogue or voiceover but concludes with a message: "Everyone is welcome."
What's on display here, first and foremost, is an L.A. lifestyle that speaks in part to the way we travel today—leaving our boutique hotels or Airbnbs in search of local experiences, armed with a Wallpaper guide to shops and architecture or just a smartphone with Yelp to seek out food to Instagram. "Touristic shame is not based on being a tourist but on not being tourist enough," wrote the sociologist Dean MacCannell in 1976. The shame was in not tapping into a deeper, more authentic urban experience, the kind evinced by, or at least simulated in, this advertisement.
But if the ad is designed to play to a tourist's desires, it is also designed to play to his or her fears. Tourism officials in Los Angeles are worried about a "Trump slump" prompted by the president's rhetoric and policy. The city has experienced six straight years of tourism growth, but its forecasts suggest that may come to an end this year.
And so Los Angeles has drafted a campaign that stresses its diversity and hospitality but little else you'd expect from a traditional city ad. The spot will run in Canada, Mexico, Australia, the United Kingdom, and China—whose tourists, spooked by the headlines, may be reconsidering plans to visit the states.
The consultancy Tourism Economics predicted that over the next three years, Los Angeles County could see 800,000 fewer foreign visitors than normal and lose $736 million in direct spending by tourists. Still, it's not clear the "Trump slump" exists yet. A decline in tourism to the U.S. in the fourth quarter of 2016 was probably spurred mainly by higher prices (a strong dollar, a big oil rebound). Los Angeles hasn't yet seen bookings decline.
But, says Ernest Wooden Jr., the head of the Los Angeles Tourism and Convention Board, there are discouraging signs in the pipeline, reflected in data on flight searches, for example. "Not 100 percent [of flight searches] will translate to bookings, but certainly a percentage will," he said. Some tour companies have also reported reduced interest.
While the countries covered by Trump's still-stymied travel ban comprise a tiny fraction of U.S. visitors, the perception of an unaccountable airport police force—and a country with inhospitable xenophobic leadership—has traveled widely. Some well-publicized airport detentions included those of French historian Henry Rousso, Australian children's book author Mem Fox, and Mohammed Ali Jr., the (American) son of the late heavyweight champion. The Trump administration has also planned to require international visitors to surrender their passwords and other sensitive data to border officials, and has banned electronic devices on flights on certain airlines from certain countries.
Los Angeles is not the first city to try to make the best of the bad press. In February, NYC and Company, the marketing organization for the five boroughs, launched a new international campaign called "New York City—Welcoming the World." Tourism Economics gave a similarly dire message to New York, projecting the number of international tourists would fall for the first time since 2008. Billboards representing New York values will appear in the United Kingdom, Germany, Mexico, and Spain.
It's the synergy of resistance-as-politics and resistance-as-brand. As Pepsi showed us all last week, harnessing political energy to sell things can be difficult. Especially when you don't actually want to make a political statement. This is the line Los Angeles is walking: "We're trying to deal with this situation in as apolitical a way as we can muster," says Wooden.
But at least in the case of Los Angeles, I think it works—in part because, as we saw in the Super Bowl, virtually anything with more substance than the Kendall Jenner spot can be read as political during a time of heady partisanship. And the L.A. ad, which features a disabled man and a gay couple among other Angelenos (half the cast was pulled off the street), does feel anti-Trump.
And a city, too, has considerably more leeway than a product. After all, metropolises like Los Angeles and New York have made efforts to stall the president's policies and shelter his targets. PepsiCo CEO Indra Nooyi, meanwhile, sits on the president's business council.
Other cities have also trumpeted their role in the resistance, so perhaps it's only a matter of time before we see it reflected in their branding materials. Which raises the possibility that all of America's major cities might soon be striving to distinguish themselves to foreign tourists by emphasizing how similar they are.