A blog about business and economics.
The 10 Fastest Growing Companies in New York City
Believe the hype: New York City is home to more fast-growing companies than any other city in America. Two hundred and four of them, to be exact, made it onto the 2014 Inc. 5000.
Advertisement

Let's zoom in on just the top 10 of those, which together form a fascinating and diverse portrait of modern commerce. Two are trying to take a bite out of Madison Avenue. Three are fresh spins on old hospitality industries. Two of these businesses would likely not exist without social media.
These are New York's fastest-growing young companies. And they certainly do have an Empire State of mind.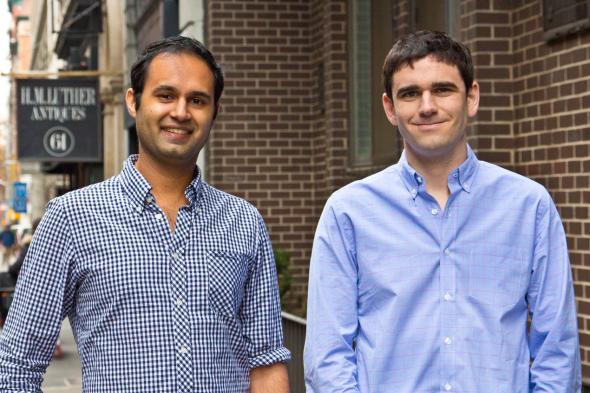 Three-year revenue growth: 3,039 percent
Founders: Russ D'Souza (pictured above, at left) and Jack Groetzinger (at right)
Business objective: "To make a better way to buy tickets," says D'Souza.
Light bulb moment: "My co-founder and I really like going to shows, and there just wasn't the technology out there to find tickets, the way there is a Kayak or Orbitz for airline tickets," D'Souza says. SeatGeek, which is an Inc. 30 Under 30 alum, also does a tidy business in selling tickets to sporting events.
Measuring success: "We've helped people find, and buy, more than $100 million in tickets this year," D'Souza says.
Neighborhood: Union Square
Why they ♥ NY: "We are in entertainment and sports, and many of our media publishing partners are here," D'Souza says. "Also, when we do interviews on Fox or CNN, the studio is just a quick cab ride away."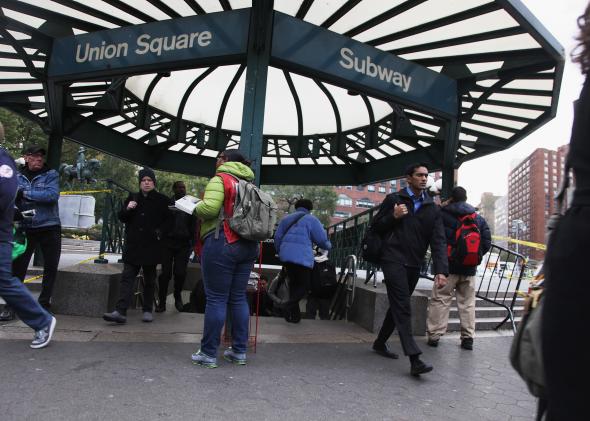 Three-year revenue growth: 3,231 percent
Stepping in: Knoll joined Integral Ad Science, a company that matches advertisers with desirable placement online, two years into its existence. "It was a really big opportunity to add value for advertisers by using the company's existing technology to see what makes the biggest impact for them," Knoll says.
Building culture: "We do team exercises once a quarter," Knoll says. "Teams must do something unrelated to work, like volunteer or complete a scavenger hunt. Then they are judged." Recently, Vanilla Ice was a surprise judge.
Neighborhood: Union Square, which is pictured above. (IAS is moving to the West Village this year.)
Why they ♥ NY: "First of all, this is where the largest marketing budgets are," Knoll says. He also says New York is a rich talent hub for engineers and data scientists, with nearby Princeton University and New York University graduating new young experts each fall. And even for recruiting long distance, "It's not too hard to convince someone to move to the heart of New York," says Knoll. "It's great for recruiting."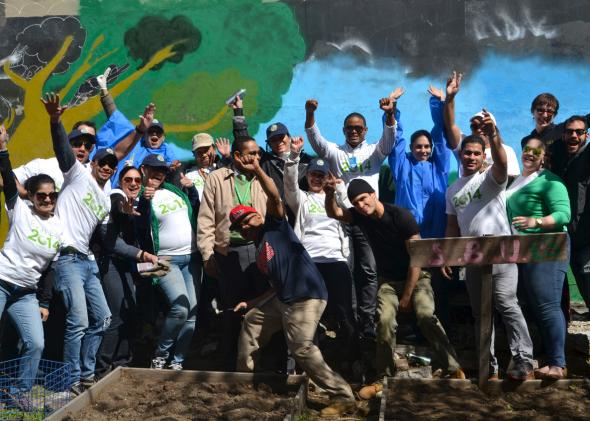 Three-year revenue growth: 3,588 percent
Founders: Maximo Centeno, Johnny Jaar (deceased), Lissette Reynoso, and Vladimir Reynoso
Business objective: "Supermarkets use more energy per square foot than any other retail business," says Vladimir Reynoso. "Our first project, we saved a supermarket $100,000 in a year." The supersimple concept--adding nighttime covers for refrigerator cases, replacing lights with LEDs, and switching out ancient fan motors for efficient models—took off. The company has completed 3,000 energy overhauls over the past five years. Above, a group of employees is pictured volunteering at a community garden on Earth Day.
Fun fact: Each of the four founders is of Dominican descent.
Bonus fact: The founders hired their first employee through LinkedIn. Now that hire is on the executive team.
Why they ♥ NY: "About 60 percent of our employees are based in the Bronx, so it's convenient," says Reynoso. "We do business in all five boroughs, Connecticut, and New Jersey--and our location gives us easy access via highway to everywhere in the region."
Three-year revenue growth: 4,011 percent
Founders: Andreas Leptourgos and Steven Francess
Light bulb moment: "We were both working in finance in New York City when we realized, for selling used electronics, eBay and Craigslist don't make any sense," Leptourgos says. "To use them, you have to, like, meet a stranger in a parking lot. If you're into meeting someone in a parking lot, by all means, go for it. But we didn't want to."
Humble beginnings: Both founders moved back into their parents' homes, at ages 24 and 25, in order to afford their first office for BuyBackWorld, which purchased used phones and other electronics from consumers and resold them. "It was a little bit of swallowing the pride," Leptourgos says.
Finding success: The company now buys and sells through its website, which offers free shipping both ways on 10,000 electronics. It booked more than $4 million in revenue in 2013.
Neighborhood: Long Island City, Queens
Why they ♥ NY: Both founders are New York natives who love Queens, owing to its central location, reasonable real estate prices, and the simple fact they do a lot of shipping and receiving. "You can't have mail trucks coming in and out of Manhattan; it would be a mess," Leptourgos says.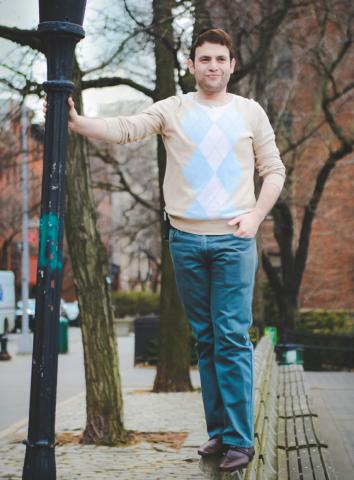 Three-year revenue growth: 4,146 percent
Founder: Eli Ostreicher (pictured at left)
Humble beginnings: "I was 22 years old at the time, I lived in Miami, and it started from my bedroom, and my first client was my uncle," says Ostreicher of his now-booming luxury travel business. "Slowly, word got around."
Claim to fame: Customers include Rolex, Berkshire Hathaway, and the band Maroon 5.
Secret to success: "I kept pumping the concept of service, personal touch, 'I will always be there for you,' at a time when so many travel companies were going digital and distant," says Ostreicher.
Neighborhood: Borough Park, Brooklyn
Why they ♥ NY: "The truth is, New York comes with perks that no other city in the world has," Ostreicher says. "It's a city where, if you really have your goal set on something, nothing is unreachable. If you live by a theme of 'not taking no for an answer'--which is sort of my motto--then New York City is your platform."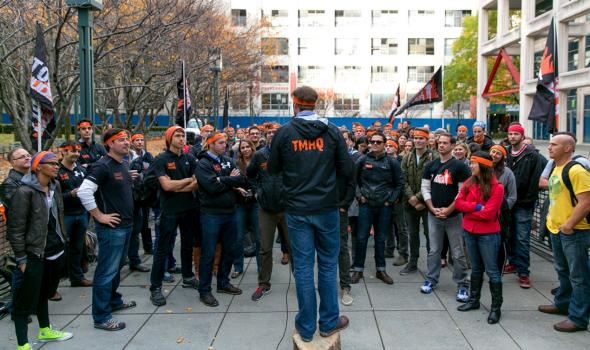 Three-year revenue growth: 4,737 percent
The game plan: Dean drew up plans for Tough Mudder while attending Harvard Business School, and started bootstrapping the event company, which hosts extreme runs through inventive—and curse-inducing—obstacles, upon graduation. With just $8,000, he marketed the first Tough Mudder event on Facebook. More than 4,500 people signed up, and a company was born. From there, "it went gangbusters," says Alex Patterson, Tough Mudder's vice president of brand. "It was totally a word-of-mouth thing."
Operational guidelines: "We set goals way outside of what we logically can accomplish, and then break all our existing systems to get it done," says Patterson.
Current status: Today, Tough Mudder hosts more than 60 events in seven countries.
Neighborhood: Downtown Brooklyn
Why they ♥ NY: The company started here, out of Dean's wife's (then girlfriend) apartment in Brooklyn Heights. Over the past five years, "it's really benefited us to have the vibrant talent in New York; it's a lot of young people growing their careers with us," Patterson says.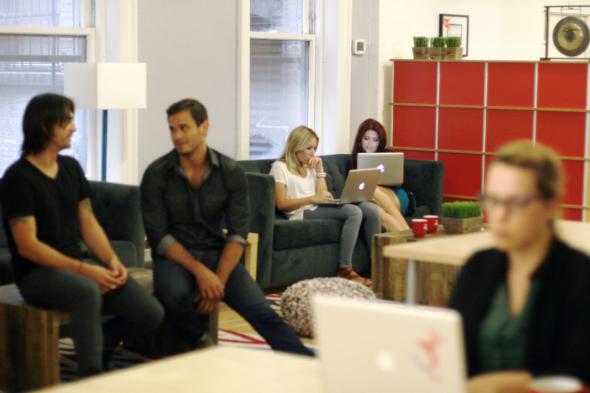 Three-year revenue growth: 5,217 percent
Spinoff: Crowdtap, which created a social-marketing platform, was founded by Brandon Evans and Kareem Kouddous inside the youth-and-campus marketing agency MRY. It spun out on its own and took an infusion of venture capital funding in 2011.
The mission: Get social-media influencers to represent brands. "Younger generations are immune to traditional advertising in a sense," says Foster. "But they are natural content creators. As brands live in the hearts and minds of consumers, it's important to inspire consumers to become storytellers for brands."
Big clients: Walmart, Nestlé, and Campbell's
Why they ♥ NY: "Not only is it where a lot of our clients are—whether they are agencies or brands—but also, being downtown communicates this important image that we are innovative and doing big things," Foster says.

Three-year revenue growth: 5,505 percent
Founder: Morgan Hermand-Waiche
Light bulb moment: "The birthday of my girlfriend was coming up, and I wanted to buy her some lingerie, and I couldn't find something as nice as I wanted in my budget," says Hermand-Waiche.
Building a business: The Harvard Business School-educated McKinsey & Company veteran decided to hire a former Victoria's Secret designer and get to work. "Everything is sold on our website now," Hermand-Waiche says. "We shoot our phenomenal products on beautiful models. And shipping is free." Shown above are some of the company's products, on display and in design.
Neighborhood: Fashion District
Why they ♥ NY: "New York is the heart of everything in fashion," Hermand-Waiche says. "The building we are in is called the Fashion Building, and the avenue we are on is called Fashion Avenue. Could it be any better?"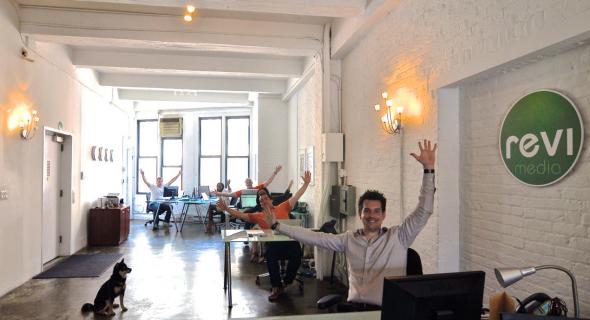 Three-year revenue growth: 5,817 percent
Founders: Frans van Hulle and Sebastian Offers
Starting up: "We started without a business plan, I would say," van Hulle says. "But we did have a relatively innovative concept in lead generation."
How it works: The duo built their online lead-generation tool, which provided quiz-format interactivity to potential customers of the insurance, automotive, and home-security industries, into its own technology platform. Now, "the platform has taken on a life of its own," van Hulle says. It's the company's main revenue driver.
Claim to fame: More than seven million leads generated for other businesses.
Why they ♥ NY: "My business partner and I are both Dutch, but New York is in our DNA as a company," van Hulle says. "We are very attached to New York."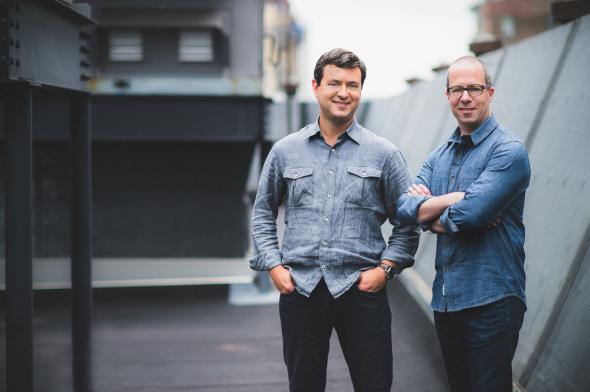 Three-year revenue growth: 6,898 percent
Founders: Jason Albanese (pictured above, at left) and Brian Manning (at right)
Light bulb moment: "We saw a gap in business services: Traditional large companies that are not in the business of digital were not getting the services they need to become more digital," says Albanese.
Building a business: Albanese, a serial entrepreneur, teamed up with Manning, a digital consultant who had spent years at the digital divisions of large companies, including CitiGroup and Barnes & Noble. "Digital is the tip of the spear in our consulting firm," Albanese says.
Lean days: Centric spent its first two years working closely with just a couple of clients while bootstrapping and making meager revenue. "We went very deep with a couple of clients before spreading out among many," Albanese says. Still, the company didn't take outside funding while growing fast.
Advice to startups: Stay focused. "One of the things we've done very well here is stay very focused," says Albanese. "A problem a lot of young companies face is they get distracted from what their business plan is. We said no to a lot of things early on. It felt scary, but it allowed us to stay focused."
Why they ♥ NY: "Because we have a heavy client-services side to our business, and have clients based all over and outside the United States, we felt having a premium address—everyone has heard of Fifth Avenue!—helped," Albanese says.
At Work, Every Friday Should Be a Summer Friday
This article originally appeared in Science of Us.
Summer doesn't officially end until late next month, but who are we kidding: This is our last real week of summer, which makes August 29 our last summer Friday of 2014. If you're lucky enough to work at a company with "summer Fridays," that wonderful seasonal tradition of closing the office early on the Fridays between Memorial Day and Labor Day, you're about to head back into the cold reality of the five-day, 40-hour workweek.
But you shouldn't have to. The concept behind summer Fridays should be a year-round perk, several researchers who study workplace productivity and employee well-being told Science of Us, because giving workers more freedom to decide when and how they work may ultimately result in them getting more done.
Many companies already have a summer hours policy in place, and this provides management with an already tested blueprint showing how permanent flex-time policies—or, even better, some have argued, a shorter workweek—will likely work for their businesses. "If it works well one day a week during the summer, why not make that year-round?" said Jennifer Glass, a University of Texas at Austin sociologist who studies workplace flexibility, in an email. Why not, indeed.
So You're Rich for an American. Does That Make You Rich for New York?
New Yorkers have a notoriously skewed sense of wealth—at least when they work in industries like finance or media and live in Manhattan or Brooklyn. It's hard not to, seeing how we're surrounded by expensive restaurants, expensive apartments, and expensively dressed people who seem able to afford it all.
So, as an econ writer, it's usually a somewhat strange experience when I get into conversations here about class. If I mention that a six-figure salary counts as rich in much of the country—that just $250,000 gets you into the top 2 percent—the response is usually, "Sure, but that's not New York rich."
Advertisement

Except, it sort of is. While working on my column today about what counts as rich in America, I pulled a bit of Census data to compare income New York City and the entire United States. The greater New York metro area may be home to an enormous share of the country's 1 percenters, and it's certainly a magnet for exorbitant, plutocratic wealth. But in the city itself, the basic income curve isn't that exceptional. In the entire U.S., according to the Census, about 22 percent of households earn six figures. In NYC, it's about 25 percent.
What about cost of living? Don't working professionals in New York—those of us who aren't Wall Street plutocrats—have a right to feel a bit poorer because of the insane amount of money we pay to live in shoebox apartments? Real estate here is expensive, and we don't get much square footage for our buck. But as I wrote yesterday, the high rents in this city are balanced out somewhat by the low, low cost of commuting on the subway. (Not paying for a car, or gas, or car insurance is pretty financially sweet.) Combined with the fact that salaries are somewhat higher than average here, and New York is reasonably affordable compared to other large cities. Of course, you can easily make it unaffordable by moving to that lovely tree-lined block in Brooklyn or Manhattan that's just steps to the park, a great coffee shop, and a subway station. But those are consumption choices.
The upshot: If you're rich by U.S. standards, you're probably also rich by New York standards. Now, if you do want to see a city where incomes are crazily out of line with the national norm, check out San Francisco, where 39 percent of households make six figures—it really is becoming a city for the rich.
76 Ways to Make Money in Digital Media

In much the same way I used to quiz my grandmother about how she survived the Great Depression, a younger colleague recently asked me what online journalism was like in the 1990s (we started Slate in 1996). As I started to talk about it, I realized that the journalism itself hasn't changed that much—blah blah social media, blah blah interactives, blah blah longform—but what has changed is the money. There didn't used to be any. Now there's a lot.
As an exercise, I made myself two lists: all the sources of revenue I can remember for 1998 digital journalism and all the sources of revenue I can remember for 2014 digital journalism. I'm not exactly sure what they explain, but I suspect it's a lot.
Advertisement

In 1998, the sources of revenue for online journalism were:
In 2014, the sources of revenue for digital journalism are:
Funding from some rich person (e.g., eBay founder Pierre Omidyar's First Look Media)


Funding from some rich company that is making a long-shot bet (e.g., some of Bloomberg's ventures)


Ads from real (i.e., not network) advertisers


Ad network ads


AdSense ads from Google


Outbrain-style links to other people's content that pays when readers click it


Native advertising


Make the native ads yourself and get a production fee


Build a microsite for the native content and get paid separately for that


Subscription (no content unless you pay)


Paywall (some content, then you have to pay, à la the New York Times)


Micropayment (pay for each individual piece of content)


Membership (content is free, but bonus stuff—discounts, Easter eggs—for members; e.g., Slate Plus!)


Tablet-only subscriptions


Paid app


Tip jar (asking for support without perks)


Kindle subscriptions


Sell swag and merchandise directly to readers.


Amazon Associates revenue (via links in stories)


Amazon Associates revenue where you assign stories about products in order to get the sales cut


Sell your own merchandise but through a company that fulfills it and pays you a cut (e.g., Café Press)


Lead generation—send a reader who becomes a customer, get paid


Syndicate stories to other digital publishers to run on their sites


Syndicate stories to print publications


Syndication for textbooks/academia (e.g., PARS)


LexisNexis


Syndicate content for advertiser's microsite


Public events—ticket revenue


Public events—corporate sponsor revenue


Conferences for professionals—ticket revenue


Conferences—other forms of sponsorship (badge sponsorship, mobile service sponsorship)


Paid parties: Readers pay to socialize with you


Conferences—booths/expo revenue


Events as sales spiel—bring people in for content of event, then sell them something


Native events—events put on for advertiser


Foundation funds journalism on a favorite subject


University funds journalism on a favored subject


Donations from foundations not tied to a particular project


Mobile banner ads


Mobile and tablet interstitials


Video ads from real advertisers


Network video ads


Google/YouTube pays to have you create video


YouTube video revenue share


Podcast ads—not host-read


Podcast ads, host-read, paid for click-through/sign ups


Podcast ads, host read, not paid for performance


Podcast festivals


Podcasts created for sponsors


Cruises for readers


Teach classes for readers or other journalists


Webinars


Sell photo archives both digitally and as prints


Publish physical books of your digital content


Kindle singles and other e-books


Sell unusual books for non-Amazon publishers, as Slate did with this Ursula LeGuin book


Sell movie and TV rights


Product placement—get paid for using products and reviewing them


Use your Google page rank power to put in links to other places and get paid for referrals (which undoubtedly infuriates Google)


Sponsored tweets


Get paid to make Facebook posts on a particular subject.


Ads in emails


Kickstarter fundraising (à la 99 Percent Invisible)


Build apps for people


Higher-end specialized product (e.g., Politico Pro)


Targeted research for subscribers who pay a premium (e.g., BI Intelligence)


Create viral content for advertisers and charge for virality in a BuzzFeed-y manner


Get people to sign up for an email list for an advertiser, as Upworthy does


Sell your subscriber data


Sell your email lists


Build a platform, put great journalism on it, and sell the platform (e.g., the Atavist)


Wine Clubs


Sell access to archives (hat tip: Joe Turner)


Get government funding to create journalism, e.g., USAID (hat tip: Joe Turner again)


More than a tip jar—straight-up donations, à la Brainpickings and NPR (hat tip: David Harvey)


White papers
Forget the Rent: Why New York and San Francisco Are Actually Amazing Bargains
New York and San Francisco are synonymous with out-of-control rents. But they're more of a bargain than most of us realize. The New York Citizens Budget Commission, a nonprofit devoted to state and city government issues, recently ranked 21 large U.S. cities and found that New York, San Francisco, and Washington, D.C., (also thought of as an expensive place to live) were actually among the most affordable. How is that possible? First, families in these cities tend to earn more. Second, they spend less money commuting. The typical New York household, for instance, pays a ludicrous amount of rent, but most don't own a car, since they can use the subway or a bus to get to work instead.
Like all rankings, this one should be taken with a grain of salt. The Budget Commission based its work on the Department of Housing and Urban Development's Location Affordability Index. Play around on the government's website for a while (it's fun, I swear) and you'll find that for some households, Atlanta or Dallas might indeed be more affordable than New York. In the end, I think the graph stands in for one big point. Americans tend to move in the direction of cheap housing. But my guess is that many families who go off to the Sun Belt in search of a moderately priced home with a yard end up underestimating the impact of commuting costs on their finances, since they're simply more difficult to predict. (Do you know where the price of gas will be in two years? Neither do I.) And while housing is the single biggest piece of most family budgets, transportation comes in second, eating up about 17 percent of all expenditures. As the New York's budget commission puts it: "The rent is too damn high! But the Metrocard is a pretty good deal."
Advertisement

Why You Should Look for Strategic Investors in Unlikely Places
Since my time in the United Kingdom watching Dragon's Den, and now in the U.S. watching Shark Tank, I have loved seeing entrepreneurs battle with a complex question: Whose money should I take now that I have multiple suitors? And why? Is it better to own a large stake in a smaller company, or a smaller stake in a much larger one?
Advertisement

With so much money flowing into venture capital and private equity funds, it seems like a greater proportion of investors these days are purely financial. They offer no real operating or distribution know-how; they simply ask budding entrepreneurs to supersize their business more quickly. VC and PE clearly have a critical role in supporting the growth of many small companies, but where do you turn once that utility is maxed out?
Two companies I follow closely have recently pursued strategic investors to help them accelerate. Both have ended up with unlikely, yet what appear to be excellent, strategic investors.
Before there was DogVacay or Rover.com, there was Camp Bow Wow, a franchised business offering pet-sitting, walking, and ancillary services. More than 10 years into the current business model, the company now boasts more than 120 locations, more than $70 million in sales, and an average client spend of around $1,500 per year.
Owner and founder Heidi Ganahl is aware of the need to grow more rapidly to keep up with the upstarts in the space and has a goal of operating from 1,000 locations as soon as possible.
With this backdrop, she recently sold the business. Not to a VC-backed new entrant. Not to a PE shop. Not to a competitor. No, Ganahl has done something quite different by selling out to VCA, a $3 billion Los Angeles–based company that operates more than 600 animal hospitals. Ganahl will still be involved, but VCA's deeper pockets should allow an acceleration of Camp Bow Wow's proven business model. Who knows how much additional impact the cross-marketing will bring to both companies, but I am sure all the existing franchisers are licking their lips, and another 800 entrepreneurs seem to be needed too.
Scotland-based Design LED Products is another company that's about 10 years old and at its own tipping point. The company designs LEDs for use in innovative and energy-efficient commercial and consumer lighting products. Their bulbless lamps are a particular favorite of mine, with their promise of no more time balanced precariously on a stepladder replacing worn-out bulbs.
Founded by scientist James Gourlay and led by Stuart Bain, the company has historically tapped angel and VC sources for funding. Now with a clear product suite to monetize, the company just announced a major funding round. It would sound like just another VC round if it were not for the source of the capital infusion: Ikea's GreenTech fund is the new name on the share register, investing alongside existing funders who are clearly excited by this development, given Ikea's goal of only selling LED-based lighting products by September 2015.
The lesson here seems pretty clear. Smart management teams should be considering investment money from a broad range of strategic investors and thinking about where there just might be operating or marketing synergies that are not immediately apparent. I look forward to seeing how these companies grow from here.
The Biggest Peer-to-Peer Lending Site Just Filed for an IPO
Online financing site Lending Club filed for an IPO on Wednesday, and according to DealBook, the debut could be one of the 10 biggest for an Internet company.
Lending Club is the biggest marketplace in the peer-to-peer lending space, which helps investors connect with borrowers seeking funds online. To qualify for a loan on Lending Club, borrowers need FICO scores of 640 or higher and clean credit histories. Interest rates average 14 percent. To date, Lending Club says it has financed more than $5 billion worth of loans (of which $1 billion were started last quarter) and paid nearly $500 million in interest to investors on the site.
Advertisement

Lending Club is one of several companies that are trying to overhaul how we get a line of credit. One of the main selling points these firms have with their clients is that they avoid traditional banks and all the headaches and red tape that can come with them. Cutting banks out of the process is also supposed to help borrowers pay lower interest rates than they would otherwise, while investors see higher returns than if they put their funds into a savings account or something relatively low-risk.
Of course, a model like this has plenty of risks. In its prospectus, Lending Club details pages upon pages of risk factors for its business, such as flaws in its own algorithm for assessing the credit-worthiness of borrowers, errors in data on borrowers from third-party providers, and, of course, any sort of fraudulent activity or security vulnerabilities. One fear among investors is that in an effort to bring in more borrowers and increase transaction volume, Lending Club might consider lowering its standards for who qualifies.
If it doesn't already have answers to assuage those concerns, Lending Club will be coming up with them as it pursues its IPO. Because in this particular endeavor, Lending Club—and not the borrowers on its platform—is the one looking to raise some funds.

The U.S. Sells Green Cards, and It Should Charge More for Them
When demand for a product swamps supply, there are two rational responses: either you make more of it or you hike the price. So perhaps it's time for the U.S. to charge rich foreigners more for green cards.
Since 1990, the federal government has set aside 10,000 visas for overseas investors willing to plunk a minimum of $500,000 into a U.S. development project—could be a dairy farm, or a hotel, or a water plant—that, theoretically, creates at least 10 jobs. For a long time, the so-called EB-5 program was a barely noticed footnote in the vast tome of U.S. immigration law. But thanks to wealthy Chinese families desperate to gain permanent residency, its popularity has surged. For the first time ever, the Wall Street Journal reports, applicants have maxed out this year's allotment of visas.
Advertisement

"These investors aren't coming for the investment," New York lawyer Yi Song told the WSJ. "They are coming here for their children to obtain a better education and to get residence as an insurance policy." Already, there is a backlog of more than 10,000 investor petitions.
This is a good problem to have. People want to live in the U.S. and are willing to pay a half-million dollars or more to do it. One might be tempted to open the floodgates.
But the EB-5 program has problems, and simply expanding it would probably exacerbate those problems. Last December, the Department of Homeland Security's Office of the Inspector General issued a scathing report that suggested the government immigration bureaucracy didn't have the necessary legal power or wherewithal to properly police the program for fraud or track its impact. For example, it's extremely difficult to tell how often the investments actually result in work for Americans. United States Citizenship and Immigration Services at one point claimed that EB-5 had attracted $6.8 billion worth of foreign cash, creating at least 49,000 jobs. Asked to verify those numbers, however, it said they were basically a guess that "assumed the minimum requirements of the program had been met." That assumption seems shaky, considering the OIG found instances where investments were made in developments that had already been completed; the money was essentially used to pay back loans.
As the OIG put it, "USCIS was only able to speculate about how foreign investments are affecting the U.S. economy and whether the program is creating U.S. jobs as intended." Not good.
There are reasons to doubt the economic logic of a visas-for-cash program like EB-5. If foreigners are funneling their money into the U.S. mostly for the sake of a green card, rather than to make a return, there's a good chance they won't be particularly careful with their investments. And as the Los Angeles Times reported in 2011, there are at least a few tales of investments gone horribly wrong. Eager foreigners sometimes get sucked into frauds, as in a massive case involving a Chicago hotel and convention center in which the SEC had to intervene.
That said, many cities have used the money attracted by the EB-5 program to good effect—building airports, for instance. The funding has been especially important to recession-racked regions where banks have been hesitant to lend. And on the whole, a program that attracts more foreign investment to the U.S. seems like a net plus.
So here's a potential solution: Since so many foreigners—too many, in fact—are willing to pay good money for the right to live here, Washington should up the charge and use some of the extra profit to fund better oversight. Right now, applicants have to invest $500,000 in a high-unemployment area, or $1 million elsewhere, to qualify for the program. By the standards of today's global rich, that's nothing. Why not double it, or even triple it? Let supply-and-demand work its magic.
IMF Chief Investigated in France
In a statement on Wednesday, Christine Lagarde, head of the International Monetary Fund, revealed through her lawyer that France's High Court of Justice of the Republic—responsible for investigating French high government officials—is investigating her for "simple negligence." In France, formal investigation is a prosecutorial suggestion that there is enough evidence to bring someone to trial.
The charges are not for her work as head of the IMF, but as finance minister for then-President Nicolas Sarkozy. Prosecutors are investigating Lagarde's role in a 2007 arbitration between the former president and Bernard Tapie, "a onetime cabinet minister and the former owner of the Adidas sportswear empire." Tapie was awarded more than 400 million euros in a dispute with state-owned Crédit Lyonnais; then, despite his socialist loyalties, backed Sarkozy's center-right political party, leading some to question the authenticity of the arbitration.
Advertisement

Lagarde stated that the fact that she is being investigated for "simple negligence" means that the committee does not believe that she had been "guilty of any infraction," but rather suspects she was "insufficiently vigilant during the arbitration." Lagarde, whose current contract with requires her to "strive to avoid even the appearance of impropriety," took over at the IMF in 2011 from Dominique Strauss-Kahn, who stepped down amid accusations of sexual assault. At the time, she was lauded for her "hard-working professionalism"—and, indeed, having made her statement, she will return to work in Washington this Wednesday afternoon.
Impulse Buying Is Easier Than Ever on Instagram
Target and Nordstrom have rolled out a new service that makes impulse purchases terrifyingly simple. It's called Like2Buy and it's basically Instagram made to Instashop. On Like2Buy, retailers display their merchandise in square Instagram-style photos; click on one and you're taken directly to the item's page on the retailer's own website. See. Like. Click. Buy.
Curalate, the marketing and analytics firm behind Like2Buy, pitches it as the "missing link" that will turn user engagement on Instagram into traffic and revenue for companies. Instagram claims to have 200 million regular users who have shared more than 20 billion photos to date. That audience is thought to be four times as large as that of Pinterest, another visually oriented social media site. In April, a study from technology and research firm Forrester declared Instagram the "king of social engagement" and said brands using it had 58 times more success in getting followers to interact with their posts than they did on Facebook.

Advertisement

Both Target and Nordstrom have posted links to their Like2Buy pages on their Instagrams. Bryan Galipeau, director of social media at Nordstrom, told Businessweek that having Like2Buy will address questions frequently posted in the company's Instagram comments such as "How much does this cost?" and "Where can I buy this?"
Turning active users on social media into active spenders for a brand is something that no one has quite cracked the code on yet. Pinterest has been testing "Promoted Pins" that advertisers can buy to raise their visibility. Twitter has sponsored tweets, and Facebook is constantly experimenting with ads. But the company that turns a social network into a virtual aisle of impulse items has a good shot at being crowned "king of social engagement."