A blog about business and economics.
Investors Are Stuffing Their Faces With Greasy, Delicious Shake Shack Stock
Shake Shack, the better-burger phenomenon, debuted on the New York Stock Exchange on Friday morning under the ticker "SHAK." Investors are gobbling it up.
After Danny Meyer's burger joint sold 5 million shares at $21 apiece late Thursday, the stock opened at $47 and climbed as high as $50 in its inaugural hour of trading. That's an increase of roughly 130 percent from the IPO price.
Advertisement

Shake Shack raised $105 million from its offering on Thursday for a valuation of a little more than $745 million. Based on its current share price, the chain now has a market cap of about $1.71 billion.
That Wall Street has such a voracious appetite for Shake Shack stock is yet another indication that fast-casual dining—a higher quality version of fast-food—is taking off in the U.S. Other beneficiaries of that movement include Panera, Five Guys, and, of course, Chipotle. In May of last year, restaurant industry research firm Technomic found that growth in fast-casual dining was rapidly outpacing that of every other dining segment. Sales of fast causal rose 11 percent between 2013 and 2014 alone.
When Shake Shack filed for its IPO in late December, it said revenues had roughly quadrupled over the past three years from $19.5 million to $82.5 million, and profits had increased by a factor of 27, from $0.2 million to $5.4 million. Investors and analysts have said that the main allure of Shake Shack's stock is its growth prospects—with gas prices expected to stay low in 2015, consumers should have more discretionary income to spend dining on burgers, fries, and milkshakes.
At least, that's what Wall Street is hoping. That, or bankers just really like burgers.

Amazon Managed to Make Money. Everybody Is Shocked. (Seriously.)
Amazon, the Wall Street darling famous for losing money to make money, has thrown just about everyone for a loop with its fourth-quarter report. That's because for once Amazon didn't miss, hit, or even slightly beat analysts' earnings expectations—it crushed them.
In the latest quarter, Amazon posted net income of $214 million, or earnings of $0.45 per share. Analysts had forecast Jeff Bezos' company would report earnings of $0.17, or a bit more than one-third of the actual. It was the first time Amazon had topped estimates in six quarters. The company posted a small miss on revenue—$29.33 billion versus an expected $29.68 billion, and sales growth was slow—but still. Wall Street was happy. Amazon's stock surged 13 percent from Thursday's close of $311.78 in after-hours trading.
Advertisement

The surprise earnings-per-share beat was a welcome change for investors, who lately had appeared to tire of Amazon's chronic no-profit act. After Amazon posted a third-quarter loss of $437 million in late October, shares sank 11 percent in extended trading. "We have a lot of opportunities in front of us that we've talked about and we're also being selective with those opportunities," Tom Szkutak, Amazon's chief financial officer, said on the Q4 earnings call. "We have added a lot of resources over the last few years, and we've certainly been in a heavy investment cycle." All of a sudden, those investments appear to be paying off.
Over the entire last year, Amazon saw subscribers to Amazon Prime, its signature membership program, grow by 53 percent worldwide and 50 percent in the United States. That jump is all the more significant considering that Amazon raised the fee for Prime, which provides free two-day shipping and access to Amazon's streaming music and Kindle library, to $99 from $79 in March 2014. As my colleague Jordan Weissmann argued at the time, even with that $20 price hike an Amazon Prime membership was still a great deal. Looking at the year's subscriber figures, it seems like customers were inclined to agree. "Prime is a one-of-a-kind, all-you-can-eat, physical-digital hybrid," Bezos said in Amazon's earnings release.

For fiscal year 2014, Amazon's sales grew 20 percent to nearly $89 billion, and the company posted a net loss of $241 million, or $0.52 per share.
Amazon is expected to continue investing in Prime for 2015, after pouring billions into Prime shipping and other member benefits in the previous year. It will be interesting to see how the company juggles Prime's traditional offerings with some new and ambitious additions—for example, Amazon Prime Now, a one-hour delivery option that debuted in New York City for $7.99 in December. Amazon has seen increased competition to its delivery business recently as big players like Google and Walmart have beefed up their delivery options, and startups like Uber have also started taking a stab at the space. With the rise of the so-called on-demand economy and platforms like Uber and Seamless, consumers have seemed to favor near-instantaneous service for a premium over slower, cheaper models. That's not to say that two-day delivery is slow—but it might not be the gold standard anymore.
Asked on Amazon's call whether he saw a shift in consumer preferences, Szkutak said he preferred not to think of delivery as a trade-off between price and convenience. "I don't view it as a shift—I view it as there's certainly a lot of visibility and transparency around all of these," he said. "That's what shopping and operating a business online does: There's a lot of transparency, and we like that world."

Watch 48 Years of Classic Super Bowl Ads
It's no secret that in 2015 it costs a small fortune to secure a 30-second Super Bowl ad spot. According to NBC, the average price of one of those coveted slots was a record $4.5 million for Super Bowl XLIX, or $4.4 million each for multiple spots. All commercials during the game broadcast are now sold out.
It wasn't always that way. In 1967, at the first Super Bowl, a 30-second ad cost $37,500, which is about $266,000 in current dollars. Not cheap, sure, but a far cry from today's prices. How long did it take for the big game's advertisers to make the jump from paying several tens of thousands to several millions? Watch Slate's history of the Super Bowl ad to find out.
America's Obsession With Healthy Food Is Driving Campbell's Away From the Soup Business
Just one day after McDonald's CEO Don Thompson stepped down following a string of rather spectacular failures, Campbell Soup Co. is also giving in to U.S. consumers. On Thursday, Campbell, the corporation behind brands like Pepperidge Farm, V8, Prego, and of course its eponymous label, announced a major restructuring. Instead of organizing around brands and geography, Campbell said it will split its operations into three product-based divisions: "America's simple meals and beverages," "global biscuits and snacks," and "packaged fresh."
Campbell, for a bit of background, has by now spent the better part of five years trying to turn its company around. The chief challenge to date: getting American consumers back on board with its core soup business. As far back as 2011, sales of soup in the U.S. were declining, hurt by rising ingredient costs and budget-conscious shoppers. In early 2012, Campbell tried introducing on-the-go soup-in-a-bag to reel in millennials. The supposedly "hip" product got a fair amount of ridicule, and even found its way onto The Colbert Report. ("It's like Capri Soup!" he quipped.) Next up was Campbell Soup K-Cups, a concept the company rolled out in September 2013 and investors seemed to rally behind. But soup kept declining. In the last fiscal quarter of 2014, Campbell's U.S. soup sales fell 3 percent.
Advertisement

"The trend is toward healthier food," says John Staszak, an analyst at Argus Research Co. "People are just changing their preferences toward healthier food, and everybody's having problems with consumer staples doing bad."
That said, Campbell has been making a big effort to shift its focus toward those new, health-centric trends. It acquired Bolthouse Farms, a producer of fresh carrots and juices, in 2012 and then Plum Organics, a maker of organic baby food, in 2013—both of which boosted sales. Campbell's stock has risen nearly 30 percent over the past two years and 8 percent in the past six months. But those gains have been in spite of its core soup business, not because of it. With its newly announced reorganization and shift away from soup, Campbell's is no doubt hoping to make the momentum last.
Older Millennials Keep Moving in With Their Parents
Maybe it's not just the economy?
Job creation may have picked up, but the Census Bureau reported today that the fraction of young adults between the ages of 25 and 34 living with their parents increased last year, reaching 17.7 percent for men and 11.7 percent for women. The figures fell for 18-to-24-year-olds, but since the census counts college students who live in dorms as "living at home" most years, it's harder to interpret exactly what those figures mean. Point being, the labor market is getting better, but older millennials are still moving in with Mom and Dad.
Advertisement

Here's the glass-half-full perspective: At some point, these twenty- and thirtysomethings are going to start climbing back out of the basement. And when they do, it will be a boost to the economy. Right now, the U.S. household formation rate (essentially the pace at which people, typically young adults, are moving out on their own) is incredibly low. When it speeds up, you'll see more demand for housing, and the things that come along with it, like appliances, furniture, televisions, and so forth. So, you know, just think of this graph as increasing potential.

McDonald's CEO Steps Down After String of Spectacular Failures
McDonald's President and CEO Don Thompson, who spent nearly 25 years at the company, who was elevated to french-fry commander-in-chief in July 2012 when share prices were high and sales were strong, who brought with him a strong track record in U.S. operations but limited experience overseas, who has led McDonald's to five straight quarters of decline and its worst monthly sales in more than a decade, who presided while the chain suffered a tainted meat scandal in China, who similarly oversaw one public relations disaster after another with striking fast-food workers, who suffered a potentially disastrous employment ruling at the hands of the National Labor Relations Board, who presumably OK'd the terrifying makeover of Ronald McDonald, who also presumably OK'd the company's equally questionable transparency campaign with TV personality Grant Imahara, is stepping down effective March 1, McDonald's announced on Wednesday.
Thompson will be replaced in both his roles by Steve Easterbrook, McDonald's former senior executive vice president and chief brand officer. Easterbrook will be charged with helping turn around a fast-food brand that has been beleaguered by consumer skepticism and negative imagery, tumbling revenue, and global declines in foot traffic. He will also have to fend off the red-hot fast-casual sector and chains like Five Guys and Panera and Chipotle (especially Chipotle) that are rapidly consuming the market share of their older fast-food predecessors. All this, perhaps, under the auspices of McDonald's new and tragically modified slogan "Lovin' Beats Hatin.' "
Advertisement

In short, not a great run for Thompson. But hey—at least he wasn't the one who decided to sell the McDonald's stake in Chipotle.

Useless but Interesting Facts About America's Married Couples
"Useless" is hopefully a slight exaggeration here, but I won't pretend that what I'm about to present counts as vital information for living in a democracy, or something. The U.S. Census Bureau came out with its annual supplement on families and living arrangements today, and while digging around I found some cool stats about married couples.1 For instance: Ever wonder what fraction of husbands are significantly older than their wives, or vice versa? Behold.
The Census estimates that roughly 1 out of every 100 marriages is between a man and a woman at least 20 years his junior. Just 0.4 percent involve a woman that much older. (It's worth noting that once you get to numbers that small, it's probably a somewhat rough approximation.) As a living, breathing human being with access to a television and other assorted media, you likely guessed that it's far more common for couples to involve an older man than an older woman. But here's your confirmation, in graph form.
Advertisement

What about wives who outearn their husbands? It's still far from the norm, but not totally rare. As of now, the Census thinks that about 20 percent of women earn at least $5,000 more than their spouse.
Full-time stay-at-home fathers, however, are still basically unicorns. Out of more than 21 million married couples with children under 15, just 211,000 husbands, or slightly less than 1 percent of them, met the Census' definition of a stay-at-home parent, meaning they were out of the labor force for the past year in order to care for family. That definition doesn't count men who work part-time at home while mostly taking care of kids, of which there are a few, but it seems reasonable enough to me.

So there you have it. In America, it's more common to find a husband at least two decades older than his wife than one who stays at home with the kids, according to the Census. Make of that what you will.

1 Sadly, the Census only appears to include hetero couples in this analysis.

Apparently Puppies Aren't Always a Safe Bet in Super Bowl Ads
People love puppies, but not so much puppy parodies, it seems. That's what Web-hosting company GoDaddy is learning the hard way after facing intense outrage over a 30-second ad spot it had planned to run during the Super Bowl.

The commercial, "Journey Home," appears to satirize the "Lost Dog" ad Budweiser released this morning. In Budweiser's minute-long spot, a puppy accidentally hops into a trailer and is dropped off somewhere far from home. As the owner searches for his dog, the puppy runs across muddy fields and is stared down by a wolf (yeah, it's kind of random) before being rescued by a troop of heroic Clydesdales, while a melancholy cover of "I'm Gonna Be (500 Miles)" plays in the background.

Advertisement

Now look at GoDaddy's ad—which, considering it came out a day before Budweiser's, is an impressive parody of the beer giant's commercial. It opens with a puppy tumbling out of a red pickup truck to stare wistfully after the vanishing car. The puppy then scampers along dusty dirt paths, over deserted railroad tracks, and through a thunderstorm, until it races back into a barn to its ecstatic owner. "Look it's Buddy!" she exclaims. "I'm so glad you made it home! Because I just sold you on this website I built with GoDaddy." The last we see of the puppy is him sitting in a box before a door labeled "Gabby's Goldens" slams and the owner yells, "Ship him out!"

Needless to say, animal rights activists didn't exactly see the humor in this. "Do you think puppy mills are funny?" the SPCA for Monterey County tweeted, adding, "If you can buy a puppy online and have it shipped to you the next day, it's likely you're supporting inhumane breeding." By Tuesday evening, GoDaddy was backpedaling. Its chief executive tweeted that the company "clearly missed the mark" with its efforts and would not air the ad after all. In a slightly longer message posted on GoDaddy's website, he added that GoDaddy had "underestimated the emotional response" to its puppy ad and would still have other commercials appear during the Super Bowl.
Animal rights implications aside, what's crazy about the GoDaddy ad is how on-point its parody of Budweiser is. Consider these two shots:
The first one is from Budweiser's ad. The second is from GoDaddy's. As I said earlier, GoDaddy's spot came out a full day before Budweiser's did, and they clearly both took some time to shoot. It's possible that GoDaddy and its ad agency, Barton F. Graf, got very lucky in guessing what adventures would befall Budweiser's puppy in this year's ad from Jake Scott and RSA Films. But looking at how closely those two shots align, it also seems like GoDaddy might have had a heads up on at least some of what was coming in Budweiser's commercial.
Budweiser filmed its spot in December 2014 and in early January quietly announced that the concept for the ad would involve a puppy getting lost. On Jan. 21, the company released three animated GIFs from the spot, one of which showed the puppy cowering in a box in the rain. Neither GoDaddy nor Barton F. Graf responded to multiple requests for comment.
On a slightly separate note, it's kind of ironic that GoDaddy is taking so much flack for its attempt at satire—with puppies!—when the company is notorious for much sleazier Super Bowl ads. In late 2013, GoDaddy said it had matured and promised to change its advertising ways. When this year's concepts rolled around, it probably thought puppies must be a safe bet. Apparently not.

West Virginia Is for Egalitarians
Rising income inequality is a national issue. Actually, scratch that—it's a global issue. But at the same time, it's interesting to look at the rise of the rich on the state level, both because it might reveal a thing or two about inequality, and because Americans never tire of petty geographical rivalries.
This week, the Economic Policy Institute, a liberal think tank, released a very cool analysis of how the top 1 percent of earners in each U.S. state has grown its share of income since 1979. The overarching point is that the story of American inequality isn't just about Wall Street financiers from New York or Connecticut gobbling up an ever-growing share of the country's economy. Rather, the affluent are pulling away from their neighbors all over the country, from Portland to Palm Beach.
Advertisement

This strikes me as an interesting, though not exactly surprising, point. One percenters aren't all hedge funders and bankers. They're doctors, lawyers, and business executives too, and sometimes live in places like Missouri and Tennessee. Of course, just because you're in the 99th percentile of earners in, say, the Deep South, that doesn't mean you make the cut for the U.S. as a whole. In Alabama, for instance, it only took an income of $272,000 to make the 1 percent threshold in 2012, compared with about $394,000 nationally, according to the World Top Incomes Database. But the past few decades have delivered a rising share of income to the workaday rich, too—the top 5 percenters, who bring down low six-figure incomes, and live all over. If you're wealthy by any state's standard, you've done pretty well over the past few years.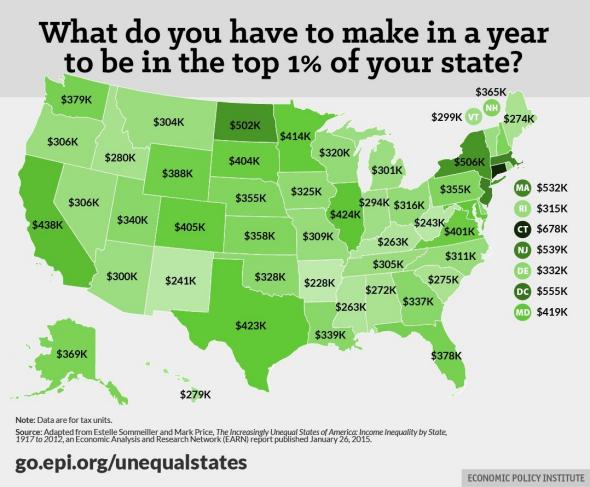 At the same time, I think there's another, probably unintentional, message that one can take away from EPI's data—that while inequality might be important, it isn't absolutely everything. (Note: EPI emailed me the numbers in the map below, since they weren't contained in the original report).

Some states where the top 1 percent eat up a relatively low share of income—such as West Virginia, Mississippi, New Mexico, and Alabama—suffer from widespread, intractable poverty or terribly low rates of economic mobility (sometimes both). Their income distributions might be flatter than some other corners of the country, but in part that's just because fewer people ever get really rich. Meanwhile, less egalitarian states like Connecticut, Massachusetts, and New Jersey have lower-than-average poverty rates, better life expectancy, and better education systems. Of course, we could all aspire to be more like Hawaii—low inequality, lots of longevity, relatively little poverty, and fabulous weather. But barring a miraculous turn of events in which the whole country transforms into Maui, it's worth remembering: Even if the rich make out like bandits in a state, it may well still be a pretty good place to live.