The iPhone 6 Marks a Fresh Chance for Wireless Carriers to Kill Your Unlimited Data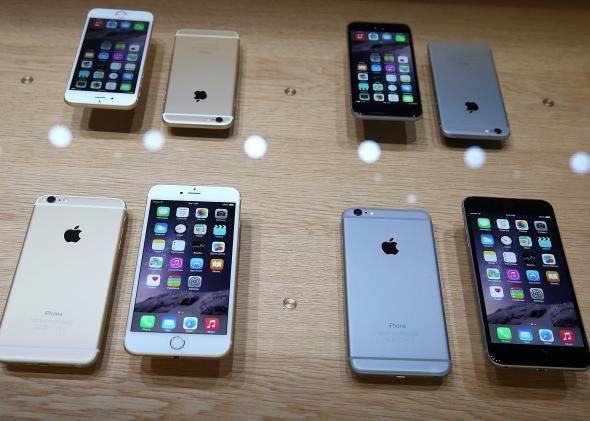 Apple is enjoying a record success with its iPhone 6. In its first day of pre-orders, the iPhone 6 received some 4 million requests—doubling the number the iPhone 5 got in its first 24 hours two years ago. Demand is so strong that Apple announced it is already exceeding the initial pre-order supply. While a "significant amount" of the devices will be delivered to customers starting this Friday, the company said "many" of the pre-orders will have to wait until October.
Should you want to get in on the iPhone 6 craze, you'll have ample choices from wireless providers. Verizon, Sprint, and AT&T are selling the 16 GB version starting at $199 with a two-year contract, while T-Mobile is carrying it contract-free for the full list price of $649. As per usual, at least one carrier is also using the iPhone 6 as a chance to break the customers still clinging to unlimited data from their plans. Verizon customers who wish to have their unlimited data grandfathered in with an iPhone 6 are once again being told that they must buy the device outright. If they choose to do that, the unlimited data will cost $30 a month on top of $55 to $90 per month for voice and texting fees.
Is the hefty upfront cost worth it in the long run? That depends on how much data you use. We crunched the numbers for a single smartphone on Verizon's standard More Everything plan as well as one on AT&T's Mobile Share Value plan to see how long you'd have to use your device—and with how much data—before keeping an unlimited plan would pay off.
250 MB
500 MB
1 GB
2 GB
3 GB
4 GB
6 GB
8 GB
10 GB
Hover on Plan Above to Compare Price
As you can see from the interactive graph above, Verizon users who consume 3 GB or less of data a month shouldn't bother paying the full list price on the iPhone 6 to keep their unlimited data; they'd be better off purchasing a two-year contract (assuming they don't plan to hang onto their phone much longer than that). But for people who use 4 GB of data or more a month, it's a smart investment.
At AT&T the deal appears to be better: Holders of unlimited data are not required to purchase the iPhone 6 outright to keep their grandfathered plans. Still, there's a catch. AT&T starts reducing data speeds—aka "throttling" unlimited users—after the first 3 to 5 GB are used each month. So as much as the unlimited plan seems financially worth it if you use more than 2 GB of data, the actual benefits are more limited.
T-Mobile, on the other hand, still offers an unlimited data option on its Simple Choice Plan. Because the plan does not include annual service contracts, T-Mobile also requires users to buy their devices outright. But once you do that, it charges less each month than Verizon does on its grandfathered unlimited plan.