Is Congress Guilty of Mansplaining to Janet Yellen?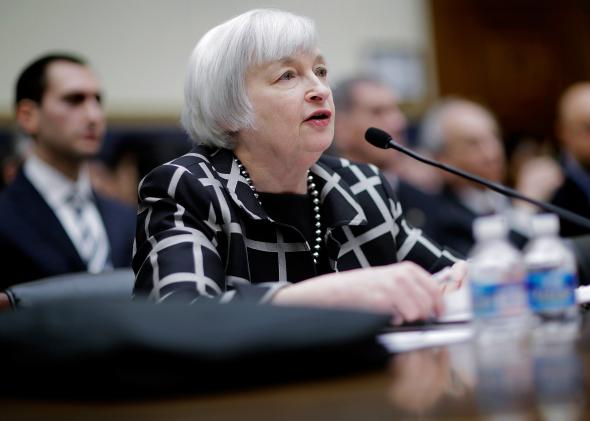 While I was off on vacation last week, the Huffington Post put up a brief video titled, "Congress Fawned Over Bernanke, But It Mansplains to Janet Yellen, the First Woman Fed Chair." The clip juxtaposes Bernanke's fairly cozy final briefing before the House Financial Services Committee—Chairman Jeb Hensarling, a Texas Republican, called him "one of the most able public servants I have ever met"—with some of the snide treatment Yellen received last Wednesday. Much of it consists of Rep. Bill Huizenga of Michigan, who in a past life ran a family gravel-making business, talking over her and implying that she hasn't read enough about the pros and cons of rule-based monetary policy. Nothing quite like watching a congressional backbencher half-coherently lecture America's most powerful woman, eh Bill?
I do think that Yellen's term atop the Fed is going to be an interesting experiment in gender politics. While there are somewhat substantive reasons why Republicans may dislike her more than they did Bernanke—she's arguably more vocal about the central bank's role in combating unemployment, which grates on the conservatives who would prefer the central bank to focus monomaniacally on minimizing inflation—she's largely continued his policy approach. If Congress consistently treats Yellen with less respect than her predecessor, it's going to look like sexism at work
(Worth noting: Huizenga's attempts to score points off Bernanke seem to have been far less aggressive. Then again, the man is serving only his second term. He may just be learning that condescension is a good way to fake fluency in economics.)
That said, some of what's going on in the video is just garden variety grandstanding, which contrary to what the clip implies, Bernanke was subjected to regularly. Here, for instance, is Rep. Keith Rothfus during Bernanke's last testimony trying to get the Fed chair to admit that quantitative easing is just reckless money printing (shockingly, Bernanke thought differently).
Sometimes, a blow-hard politician is just a blow-hard politician.