The Upside of Double Down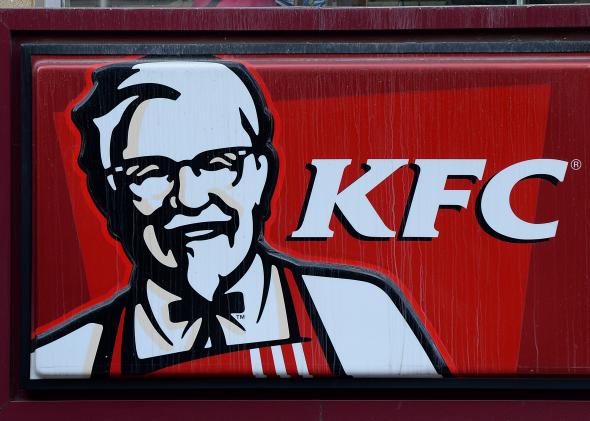 The chicken chain, which has become a bit of an afterthought in the great race to innovate the next bizarro fast food delight (here's looking at you, waffle taco), is planning to bring back its Double Down sandwich for a limited time starting April 21, according to USA Today. Sandwich is of course a loose term here. The Double Down, in case you've forgotten, consists of two pieces of fried or grilled poultry with a layer of bacon, cheese, and special sauce between them. There's no bread, but it's all wrapped up so it can be eaten by hand. It's basically half-assed chicken cordon bleu for diners who have trouble with forks.

I compare the Double Down to the McRib because they're now both officially fast food events—culinary oddities that cause a commotion by periodically sweeping, comet-like, through menus. That said, they may actually serve slightly different business functions. Writing for the Awl in 2011, Willy Staley made a great speculative case that the McRib was essentially a commodities play. McDonald's consistently brought it to market during the fall, when the price of pork was at a low. As pork got more expensive, it would disappear again from whence it came. (Which is to say, cold storage.) Meanwhile, at least according to a quick search of Google Trends, the buzz it generates doesn't seem to affect the overall frequency of searches for McDonald's.
Bringing back the Double Down, on the other hand, strikes me as a pure PR play. It's debut in 2010 led to a brief media sensation—Sam Sifton, the New York Times' dining critic at the time, pronounced it "a disgusting meal, a must-to-avoid"—and its initial sales convinced KFC parent company Yum! Brands to keep it on menus indefinitely. Eventually, it slowly drifted off menus. But returning to Google Trends, it seems that when commotion over the Double Down peaked, the overall attention paid to KFC popped as well.
And right now, KFC could probably use all the attention it can get. Chick-Fil-A recently usurped its throne as the king of American chicken chains.* And while Yum's annual report doesn't break out Taco Bell, Pizza Hut, and KFC, Yum's U.S. same-store sales across all brands were flat in 2013.

So heck, why not bring back a greasy fascination? Look, I'm already writing about it. And you're reading! If it's a publicity stunt, it's already working at least a little.
*Correction, April 16, 2014: This post originally misspelled the name of fast food chain Chick-Fil-A.