Mel Watt, Obama's Odd Choice To Regulate Fannie Fae and Freddie Mac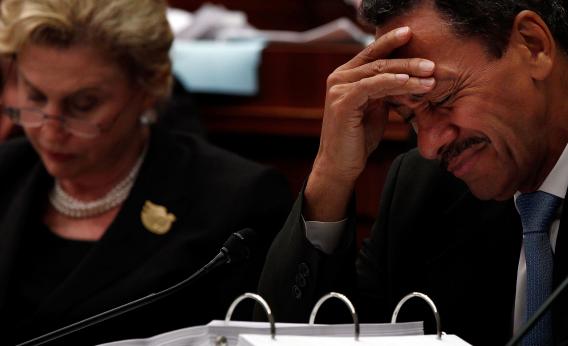 Word comes today that Obama will be nominating Rep. Mel Watt (D-NC) to run the Federal Housing Finance Administration, the 5-year-old agency that oversees Fannie Mae and Freddie Mac. It's an odd choice.
Start with the fact that Republicans are going to hate him. Watt is an African-American Democrat who's represented a funny-looking majority-minority district for twenty years. And he's liberal. Occupying position 29 in the 112th House and the 111th House alike. He's not a guy who lots of Republicans will have fond recollections of working with across the aisle, and the pick is sure to fire up talk radio's deepest id-like fears that the whole problem in American banking is that somehow people contrived to let black folks get mortgages.

But even though Watt is quite liberal, liberals won't like him either! North Carolina is a big banking state, not so much on the fancy pants hedge fund side of things but precisely on the kind of mass-market mortgage lending that's relevant to the FHFA. Check out David Dayen's rant from overnight: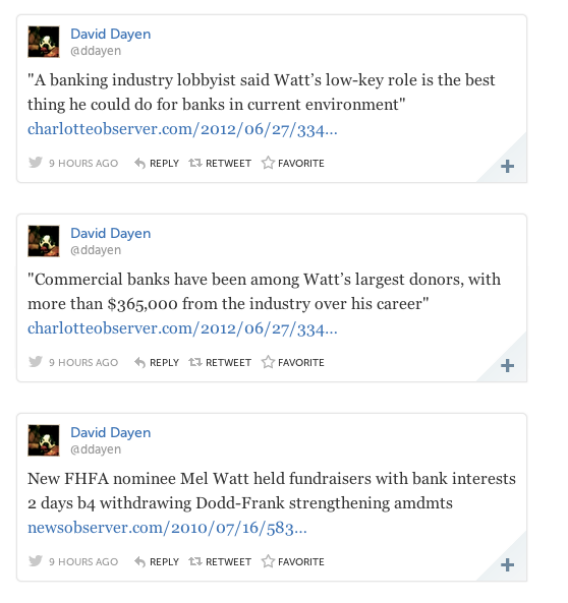 And of course this rebounds to the fact that Republicans aren't going to like Watt either. If he were an all-around business-friendly centrist Democrat, the GOP might look at Watt's closeness to the banking industry as a sign he's a guy they can work with. But given strong anti-Watt priors, this is a golden opportunity to beat up on Obama for being too close to the banking industry and muddy the waters over financial regulations.
Last but by no means least, the guy currently running FHFA—Edward DeMarco—is in there largely because Republicans like him. He's a civil servant who was elevated to the post by Republicans and who has the job because Republicans blocked Obama's previous efforts to nominate an alternative. My guess is this Watt thing is going nowhere.