Five Smart Things Tim Geithner Said on His Way out the Door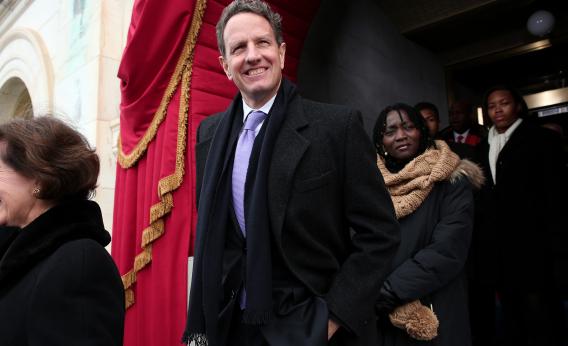 1. "The most frustrating part of this work, but in some ways it's the most consequential, is how effective you can be in relaxing the political constraints that exist on policy. You can see that most compellingly now in the fiscal debate. Paulson before us and the President were very successful during the crisis in getting a very substantial amount of authority essential to resolving the crisis. But it has been very hard since then to get out of the American political system more room for maneuver both on near-term support for the economy, as well as reforms that would lock in a sustainable fiscal path. That is the most frustrating thing, to get the political system to embrace better policies for the country."
2. "I think there's very, very substantial room to do more on fiscal policy that would be good for nurturing long-term growth. That capacity would be greater if it was accompanied by some credible long-term plan to bring down future deficits. But generally the world views the American political system as still better positioned to deal with our challenges than any other major economy, and that's one reason why we can borrow at very low rates. I think that the best economic strategy for the country would be to combine a set of very powerful near-term investments in infrastructure and elsewhere that would help support demand with long-term fiscal reforms that would restore sustainability. I think the limits we face right now are only political, not economic, not fiscal."
3. "And I remember being in your [i.e., Obama's] office in one of those dark days in early 2009, and you asked me, 'This plan of yours … You asked, you said, 'Is it going to work?' And I said, 'You know, nothing is certain in life,' borrowing a phrase from one of my predecessors, but I knew that our plan was better than any and all of the alternatives before us.'"
4. "And I said, 'The most important thing would be to prevent a second Great Depression, and you [i.e., Obama] should probably start with that.' And you reacted quickly—I think, irritated—saying that was not enough for you. And I thought, 'Fasten your seatbelts.' But you were right to set your sights so much higher."
5. "And I think what we have all learned from history, mostly from mistakes that we and others have made is that confronted with that, you need to apply a lot of force, with a lot of speed across the full spectrum of the policy tools we have. Which means monetary policy has to be very aggressive. You need to make sure that fiscal policies are very supportive of growth so you're compensating for the huge collapse in private sector demand. And you need to be incredibly aggressive in making sure that you recapitalize the financial system. If you do those things incrementally, where you do one but not all three, then you'll be left with much more damage. You have to do all of them. None of them is effective individually."