Every Interview With These Silver-Winning Irish Rowers Is Pure Gold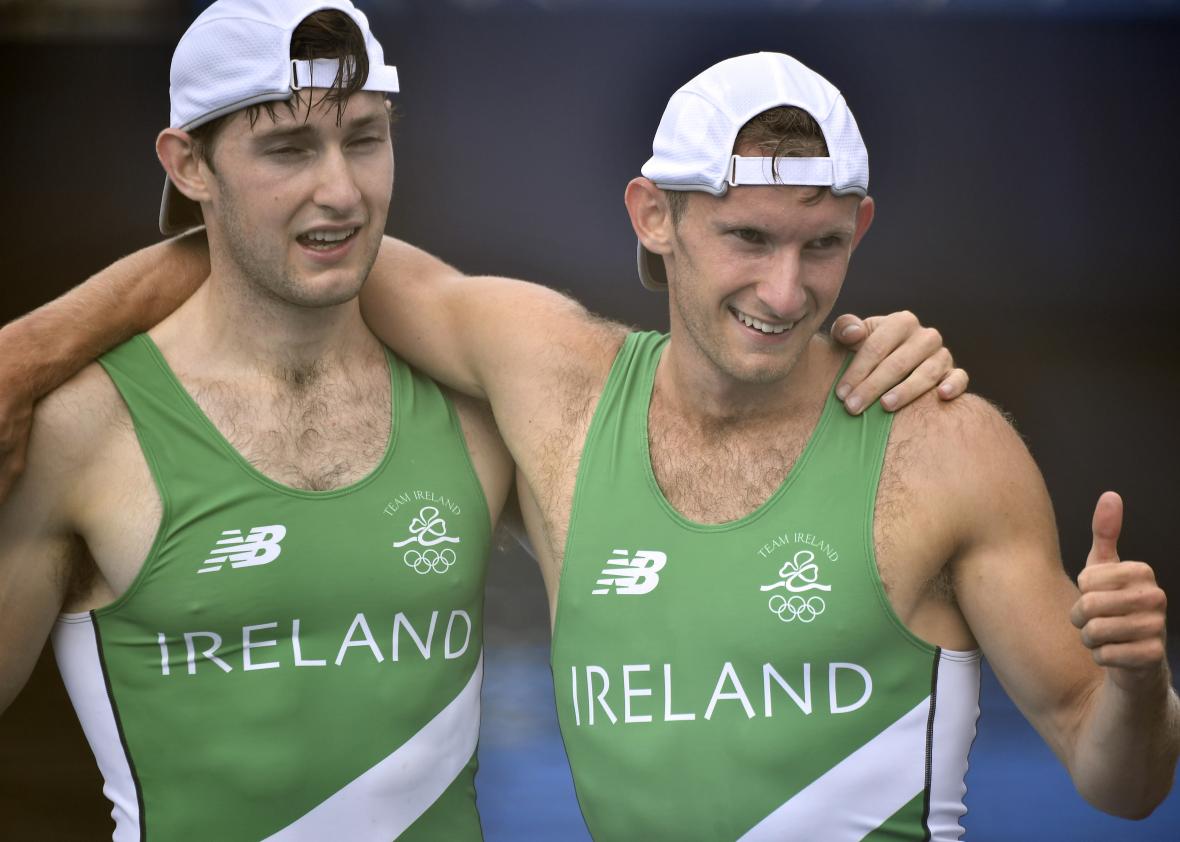 On Friday, brothers Gary and Paul O'Donovan won Ireland's first medal of the Rio de Janeiro Games, coming in second to a French duo in the lightweight double sculls. Paul O'Donovan said after the race, "We put it up to the French as best we could." Gary added, "But to come away with a silver medal, we have to be happy." These are the only boring things the O'Donovan brothers have said since arriving in Rio.
Not long after their silver medal performance, the O'Donovans, who hail from West Cork, chatted with Ireland's RTÉ Sport. The interview begins with Paul saying, "What's the craic?" For those, who like me, were not familiar with the ways of craic, it's Irish slang for news or gossip. Moving along, Paul takes the piss out of the Irish broadcaster for placing them in front of a superimposed image of Rio. (Update, Aug. 13: I think he might actually be joking about that being a superimposed image of Rio. It is hard to tell with these guys!) The presenter then asks Paul, "What has the last few hours been like for you?"
Paul's complete response (I did the very best I could here):
Erm, I've been shook enough now to be honest because of the race thing and a bit tired now and the legs are like jelly, but, uhm, yeah, I suppose we did a bit of celebrating and did the podium thing and got to put on the podium pants as well, so that was quite nice, and saw the mother and the father and a few other people and took a few pictures and that and then, uhm, I had to go and do this doping control thing so I was there for an hour or two trying to take a pee then into a cup for them so, uh, after about ten litres of water as well so, uhm, full up now to be honest. Gary, it's like great craic though isn't it.
When they qualified for the Olympic final, Gary and Paul told RTÉ Sport they would have an ice bath and "a bit of steak." That led Gary to go on an extended soliloquy about the high quality of the food at the Olympic Village.
If you watch the above interview in full, you'll notice the interviewer tries to steer the conversation back to clichés, saying, "Talk to me about tomorrow, seriously almost for a moment. Is it dream-come-true territory?" Come on, man. Ask them more questions about the food!
But the O'Donovans are up to the task of elevating the rote ritual of the post-race interview. Immediately after they secured Olympic silver, Paul told RTÉ Sport that he feared coming home because boxer "Mick Conlan said he'd box the head off us if we didn't win gold."
Earlier in the week, they'd expressed their excitement about "a cracker of a race."
They also noted it "would've been a bit of craic" to race on choppy waters.
Any O'Donovan brothers interview is worth your time, really. How can you resist a headline like this one?
Congratulations, Gary and Paul, on holding off on beating the shite out of each other for long enough to win Ireland's first-ever medal in rowing. We all hope to see and hear you in Tokyo in 2020.