Where Is It Legal to Conceal and Carry?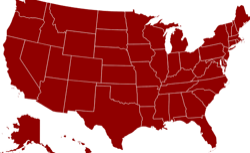 It's legal to carry concealed firearms.
It's illegal to carry concealed firearms.
Illinois became the last state to legalize concealed carry of firearms Tuesday, making it legal everywhere in the U.S. except the District of Columbia. We have provided this (very useful) map to illustrate.
TODAY IN SLATE
Technocracy
Forget Oculus Rift
This $25 cardboard box turns your phone into an incredibly fun virtual reality experience.