Watching John Oliver Confront Dustin Hoffman Over Sexual Harassment Allegations Is Incredibly Satisfying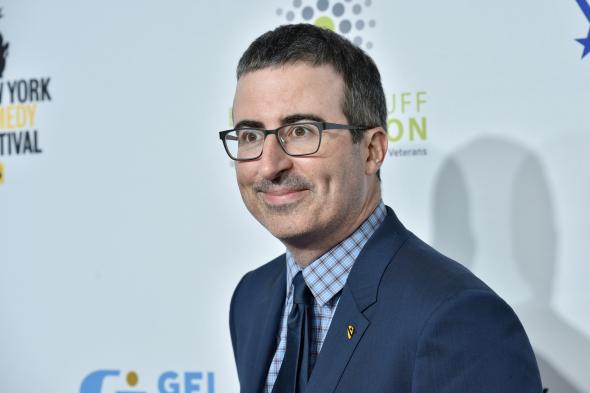 We need the John Oliver treatment on all sexual harassment "apologies," stat.
The host of Last Week Tonight (and voice of Zazu in the upcoming Lion King remake) gave Dustin Hoffman an unexpected grilling over sexual harassment allegations while moderating a panel at a Wag the Dog anniversary screening Monday night. Oliver admonished Hoffman for his previous hedging apologies, adding that there was no reason for accusers to lie, as Hoffman pushed back angrily, saying that his conduct was normal on-set behavior and that Oliver shouldn't believe everything he reads.
In October, Hoffman was accused by Anna Graham Hunter of groping and making sexual comments toward her as a 17-year-old intern on the 1985 set of Death of a Salesman. Hoffman released an statement, saying he felt bad if anything he might have done had made her uncomfortable.
Around halfway through the hourlong panel—which also featured star Robert De Niro, producer Jane Rosenthal, and director Barry Levinson—Oliver brought up the "elephant in the room," asking Hoffman about the allegations.
Hoffman claimed he did not remember Graham Hunter, that he did not grope anyone, and that his agent and PR people had told him it was best to avoid getting into a lengthy dispute by simply apologizing. Hoffman was keen to point out that his apology was not an admission of guilt and that it was framed as a conditional, saying: "if I did anything that was out of sorts or embarrassed her, I apologize."

Oliver and Hoffman butted heads over the issue for the remainder of the panel. Oliver pushed back especially against the "it's not reflective of who I am" line that many men accused of sexual assault have used, calling it a "cop-out":
"It's not reflective of who I am"—it's that kind of response to this stuff that pisses me off. It is reflective of who you were. If you've given no evidence to show it didn't [happen] then there was a period of time for a while when you were a creeper around women. It feels like a cop-out to say "it wasn't me." Do you understand how that feels like a dismissal?
Hoffman seemed unable to grasp the issue, asking at one point, "What do you want?"
Hoffman, who seemed unaware this line of questioning was coming, said he felt as if Oliver was "putting me on display." He probably should have expected it: Wag the Dog is a film about a powerful man accused of making advances on an underage girl. Oliver said he took no pleasure in the conversation but that it was one he felt needed to be had:
I can't leave certain things unaddressed. The easy way is not to bring anything up. Unfortunately that leaves me at home later at night hating myself. "Why the ... didn't I say something?" No one stands up to powerful men.
Later in the panel, the pair turned to the allegations by Katharine Ross that Hoffman groped her on the set of The Graduate. An increasingly angry Hoffman pointed to his role in Tootsie, in which he dressed as a woman, as evidence of his respect for women. He accused Oliver of failing to keep an open mind.
The audience seemed firmly on Oliver's side, with rounds of applause following his lines of questioning and whispered "yes"es from women in the crowd.