Colbert: Trump Demands Gratitude from UCLA Players, Because Thanksgiving Is About Receiving Thanks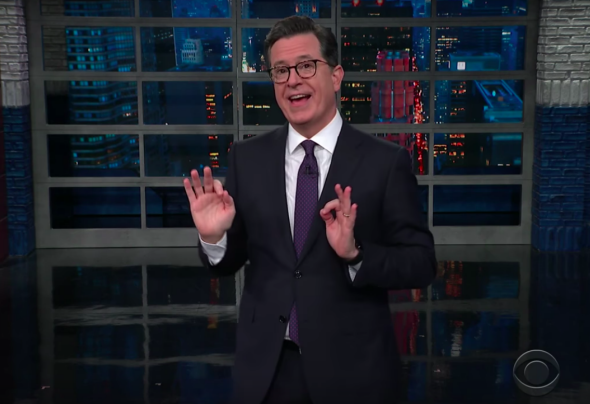 On Monday's Late Show, Stephen Colbert addressed what is quite possibly a new low in Trumpian pettiness: Demanding public gratitude for a good deed, and then wishing he could take it back when he didn't recieve the thanks he had hoped for.

Trump's weirdest episodes tend to come on weekends, so in Colbert's world, "Monday means that it's time to dig through Trump's weekend tweets and pick out the little kernels of corn." And what ridiculously juicy kernels he had to play with this week.
If you haven't been following this saga closely (and who could blame you), Trump is in the throes of another public fight with a black sporting figure. After securing the release of three UCLA basketball players from a Chinese jail, Trump decided to show off his altrusim by demanding their thanks, tweeting, "Do you think the three UCLA Basketball Players will say thank you President Trump? They were headed for 10 years in jail!"
It seems Trump needs validation for every action he performs as president, great or small. "Imagine Thanksgiving at the Trump house," said Colbert, before breaking out his Trump impersonation, calling to mind the disturbing June cabinet meeting in which members went around the table praising the president. "'Let's go 'round the table and all say what we're thankful to me for. I'll start.'"
But when one of the men's fathers, LaVar Ball, was asked about what Donald Trump had done for his son, his response was the most triggering reaction possible for the president: "Who?" As someone whose job revolves around making fun of the president, Colbert knew this was a good one. "Pretending not to know him is the meanest thing you can do to Donald Trump," he said. "Knowing who he is is his whole thing. That's why he puts his name on all his buildings, and one of his kids."
At Ball's snub, Trump's attempt at "kind benefactor" melted away. He tweeted that Ball was "unaccepting" of what he did and said that he should have left the American men in a Chinese jail, proving once and for all that Donald Trump is not only incapable of altruism: He is also the tiniest man alive.

Strategically though, this may not be the smartest move for Trump, says Colbert: "Now's not the time to be suggesting that someone should go to jail for what their dad did."