Trevor Noah Is Only Slightly Bothered That He's Not the Late-Night Host in The Lion King Remake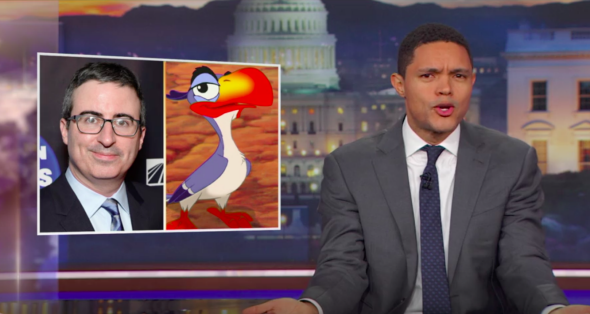 The reaction to the announcement of the live action The Lion King remake cast was dominated mainly by excitement over fact that the Queen Bey would be playing the Lion Queen, with Beyonce announced to play Simba's girlfriend then wife, Nala (though it might be more accurate to say that Simba will be playing Beyonce's boyfriend, as Trevor Noah points out on Thursday's Daily Show).
But there's another casting choice South African-born Noah wants to draw your attention to. Not that he minds, but there's a late-night host in the cast. And it's not him. Even though he was born in Africa. It's fine though.
John Oliver, the host of Last Week Tonight, will be playing Zazu, originally voiced by fellow Brit Rowan Atkinson in the 1996 animated film. Noah is excited about the cast, if slightly taken aback.
"If they wanted a late-night host to play an African character, I feel like there were maybe like some other options," he told his audience casually. "I dunno, maybe someone who's actually spent time in Africa or round like the birds from Africa."
It's a great choice, don't get him wrong. It's great. Noah is happy for his fellow late-night host.
"I'm just saying, when Mufasa asks Zazu for the latest news from the Pride Lands, he's probably now going to be like, 'I'll get to that later. But first, let's talk about reverse mortgages'."