Hamilton's Javier Muñoz Helps Samantha Bee Explain Puerto Rico's Long History of Getting Screwed by the U.S.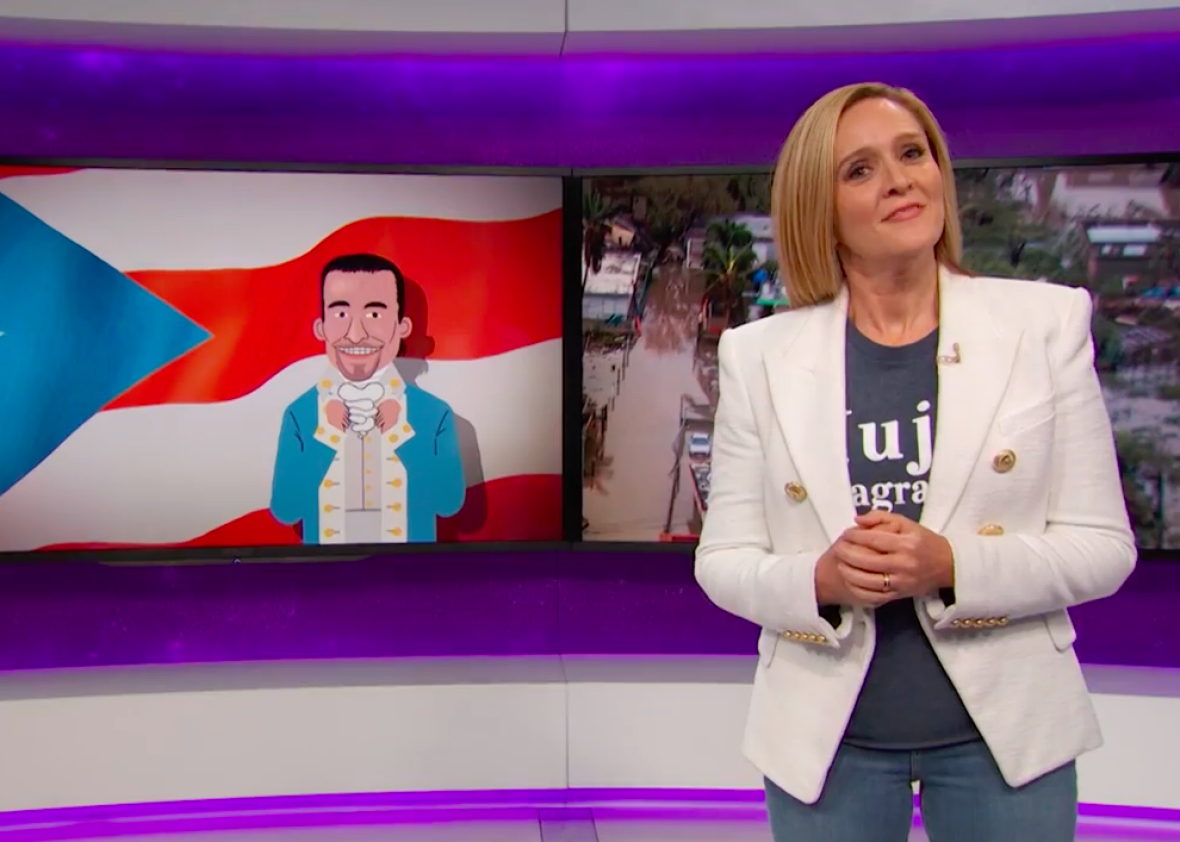 If you're shocked by the current situation in Puerto Rico, "then you are not Puerto Rican," according to Samantha Bee. On Wednesday night's episode of Full Frontal, Bee looked back at Puerto Rico's history to show that the island's relationship with the mainland United States had been turbulent long before Hurricane Maria. She even got an assist from Puerto Rican actor Javier Muñoz, who currently plays the lead in Broadway's Hamilton.
If you've been following the ongoing story in Puerto Rico, you'll know that Donald Trump paid a visit to the devastated island, in which he congratulated himself on the fact that only 16 people had died, as opposed to the hundreds who died in Hurricane Katrina. (The death toll in Puerto Rico is now up to 34.) "The lowest score doesn't win, doofus," cried Bee in frustration. "A hurricane is not a golf game. Or an election."
Trump's boasts came in spite of criticism that the federal government's response in Puerto Rico was too slow, especially considering the much speedier recovery efforts in Texas and Florida. But as Bee and Muñoz explained, this isn't the first time the U.S. government has treated Puerto Rico like "the unwelcome nephew under America's stairs." For instance, Puerto Ricans were only granted U.S. citizenship in 1917. "Just in time to fight in World War I," Muñoz notes. "Mierda."
Or for an even more relevant example today, take the Jones Act, a law passed after World War I that requires that shipments of goods within the U.S. be handled by American-built, American-owned vessels with American crews. It's a practice that helps the U.S. shipping industry but leads to higher prices for consumers, especially in places where transportation by ship is essential—like, say, an island. The act has historically been waived during emergencies so that aid can be delivered faster and more cheaply, but Trump waited more than a week to waive the Jones Act after Hurricane Maria.
Since Trump probably does not have enough paper towels to fling at the more than 3.4 million people living in Puerto Rico, Bee encouraged viewers to donate to the Hispanic Federation instead. Operators are standing by—and they may or may not be Javier Muñoz.