This List of Unused Food Puns From The Good Place Is Pretty Forking Amazing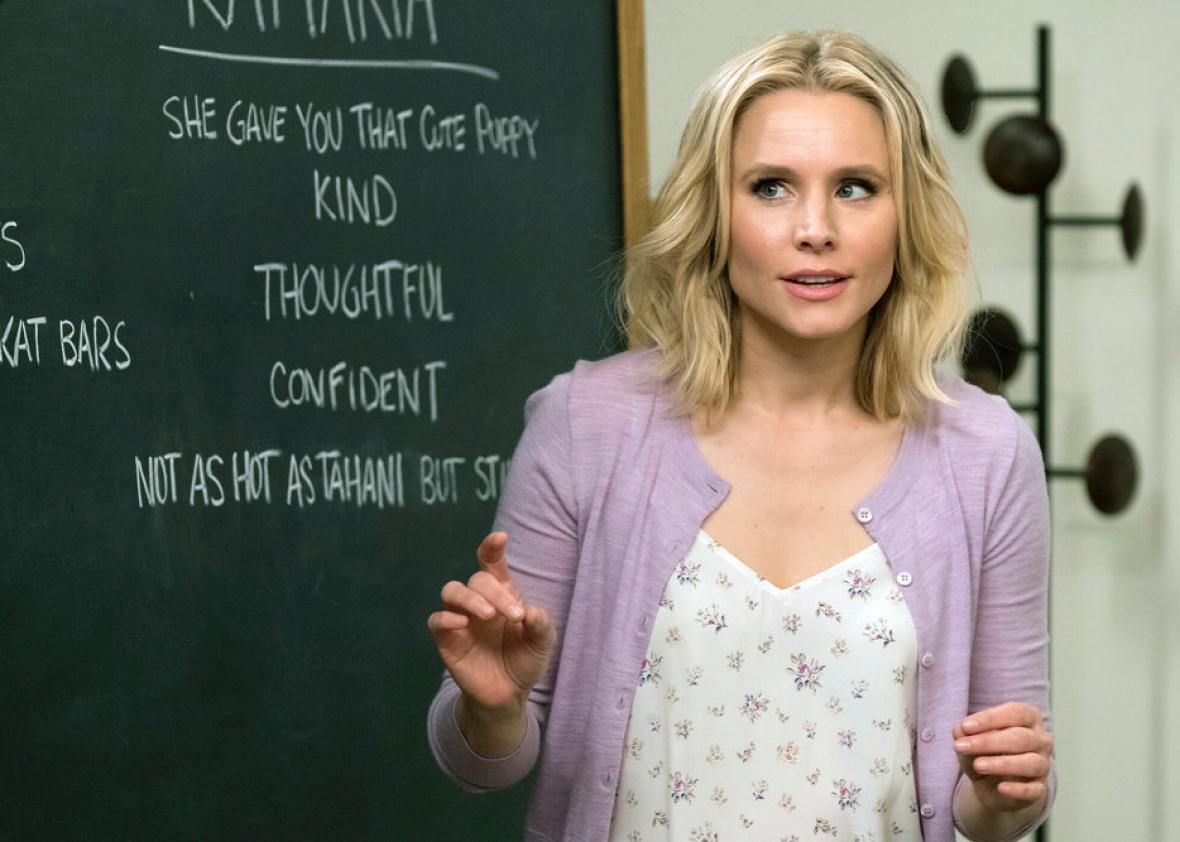 One of the delightful aspects of The Good Place is the way it balances elaborate philosophical conundrums with slapstick humor and groan-inducing puns, and both sides of the show were in full flower in last night's episode, "Dance Dance Resolution." (The eagle-eyed among you may notice that the title is also a pun.) Written by Megan Amram, who showrunner Michael Schur has identified as the show's punner-in-chief, the episode found Ted Danson's Michael rebooting the Good Place—which, as you should know by now, is actually the Bad Place—dozens and eventually hundreds of times, trying to come up with a version in which Eleanor (Kristen Bell) and her fellow afterlife-dwellers don't eventually figure out that the paradise they've been told they're inhabiting is actually a land of eternal, if subtle, torment.
In one montage,The Good Place showed us the effect Michael's re-re-reboots have on the Good Place's town square, which is invariably home to a collection of restaurants that all serve the same thing—first frozen yogurt, then Hawaiian pizza—and are named with food-related puns. There was From Schmear to Eternity, from a version where every restaurant served bagel, Sushi and the Banshees, and, from a pasta-focused Good Place iteration, You Do the Hokey Gnocchi and You Get Yourself Some Food.
It turns out that was just the icing on the cake. Schur says Amram's original draft of potential restaurant names stretched to "six or seven pages," and now she's shared an edited, but not too edited, selection on Twitter. Some of them are great, some of them are terrible, and the best are both great and terrible. It's just too bad Hominy Korine wasn't available to direct.

Pasta
Al Dente on the Western Front
Return of the Mac… 'N' Cheese!
You Do the Hokey Gnocchi and You Eat Yourself Some Foods
Lasagna Come Out Tomorrow
The Apple Doesn't Farfalle From the Tree
Pastry

Donut Make My Brown Eyes Blue
Éclair and Present Danger
Puff Piece: Try Puff Pastry!
I Torte I Saw a Puddy-Tat
Corn
Kiss My Grits … Then Eat Them!
Sushi
Seaweed Rabbit — Chopsticks Are for Kids
Bread
Matza-Chew-Sitz: A Place You Can Sit and Eat Matzah!
Poultry
Chicken of the Sea of the Land (Chicken)
A Bird in the Hand Is Worth Two in Your Mouth
I Can Be Your Feather Figure
Picatta Good Recipe From the Cookbook
Cheese
Provolone Again Naturally
Camembert-bie Let's Go Party
Shrimp