Trevor Noah Says Steve Mnuchin Has the Most Important Quality for a Trump Official: Knowing Nothing About Politics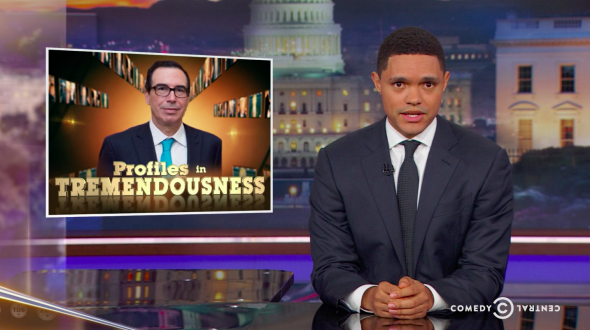 Who is Treasury Secretary Steve Mnuchin anyway? Other than the man who oversees the treasury of the largest economy in the world, that is.
In Monday night's Profiles in Tremendousness, Trevor Noah profiles "mildly satisfied LensCrafters customer" Steve Mnuchin. Noah begins by looking at the utterly bonkers story of how the former Goldman Sachs partner and movie producer became Trump's campaign finance chairman and, ultimately, Treasury Secretary of the United States of America: He was invited over for a party and a lonely Trump got clingy. It's no surprise that they hit it off. As Noah points out, this is "a man who got into politics the same way Trump did—by knowing nothing about politics."
You might remember multimillionaire Mnuchin as the man who tried to get you to pay for his honeymoon, at a cost to the American taxpayer of several hundred thousand dollars. But Noah seems more interested in the fact that Mike Pence, husband to Mother, performed his wedding. "By the power vested in me, I now pronounce you husband and mother," Noah quipped, imagining the ceremony.
But no profile (in tremendousness) of Steve Mnuchin would be complete without acknowledgement of his equally out-of-touch new wife, Louise Linton. You would think the jokes about her vapid and rude Instagram behavior last month had been done to death, but you would be wrong. The Daily Show's resident mean girl translator Michelle Wolf does an exceptional job channeling Linton's infamous comments: "Have you given more to the economy than me and my husband? Uh uh!"
All this adds up a deeply concerning picture of a Treasury Secretary who is opportunistic, out of touch, and completely devoid of principles. Any lingering doubts that former Democratic donor Mnuchin might have some concern for everyday Americans? Noah has one word for you: LOL.