The New Hamilton Mixtape Track Is the Proud, Furious Immigrant Anthem We Need Right Now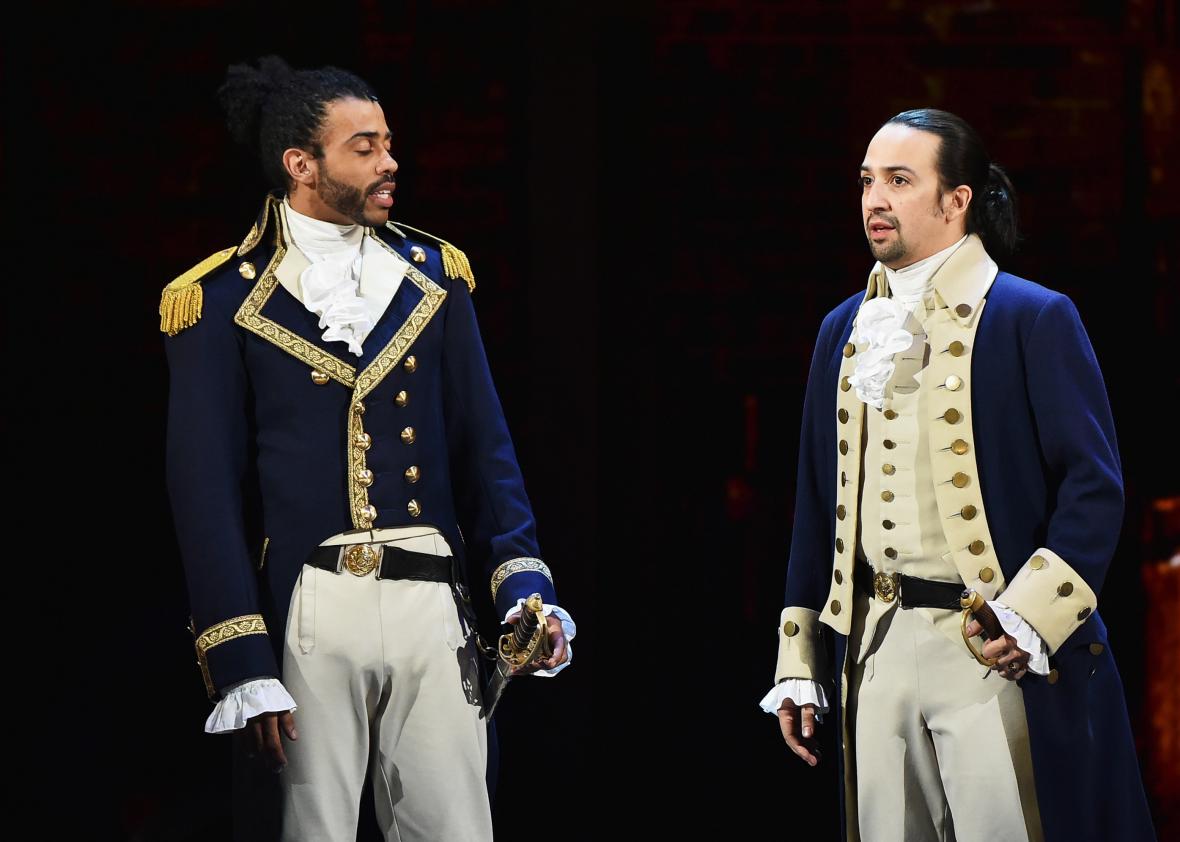 On Thursday, Lin-Manuel Miranda teased that he would drop two new Hamilton Mixtape tracks at midnight, with the added promise that one "COULD NOT BE MORE TIMELY." On Friday, we found out just what he meant, with the release of two songs: a cover of "Satisfied" by Sia, Miguel, and Queen Latifah, and a pointed, fiery original track called "Immigrants (We Get the Job Done)," featuring K'naan, Snow tha Product, Riz MC (also known as The Night Of actor Riz Ahmed), and Residente.
It's difficult to improve on "Satisfied," already one of the musical's best numbers and flawlessly delivered with a soaring vocal and rapid-fire verses by Renée Elise Goldsberry. Miranda has been hyping Sia's cover for a long time now—chiefly, that it made Jonathan Groff freak out—and the song certainly benefits from Sia's vocals, with Miguel as a sultry stand-in for Miranda and a verse by Queen Latifah. As a cover, it's pretty good. But it doesn't give the original a run for its money.
The other song, "Immigrants (We Get the Job Done)" is a whole other story. The track, one of the few on the album that isn't a cover or remix, takes its title from a line in "Yorktown (The World Turned Upside Down)", "We're finally on the field, we've had quite a run/ Immigrants: We get the job done," and runs with it. That lyric has drawn cheers and laughter during performances of the musical on Broadway, as it did during the cast's Tony presentation. But today, just days after the country elected a candidate who made xenophobia a cornerstone of his platform, it feels not only like a celebration of a nation of immigrants—it feels like an act of defiance.
Fittingly, the song is performed by musicians who are immigrants and children of immigrants themselves, outlining the hopes and harsh realities of coming to an America that isn't exactly welcoming. Riz MC, a Brit born to Pakistani parents, speaks about refugees displaced by violence ("Cool, they flee war zones, but the problem ain't ours/ Even if our bombs landed on them like the Mayflower") while Snow tha Product raps, in English and Spanish, about the unsung contributions of immigrants, particularly immigrants of color, to the country. Timely, indeed.