Watch Mike Daisey's Acclaimed Theatrical Monologue The Trump Card Live From New York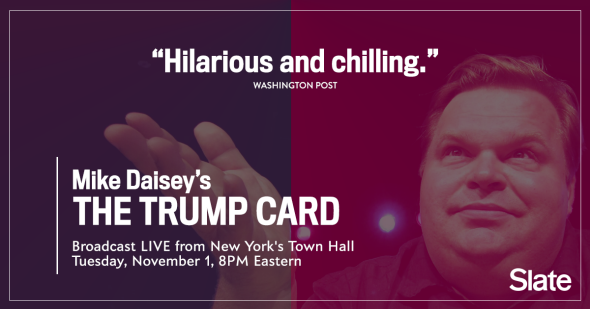 Update, Nov. 1, 2016, 10:38 p.m.: Slate's live telecast of The Trump Card has ended. But we'll archive the video here for future viewing.
All summer and into fall, monologuist Mike Daisey has been performing his show The Trump Card to sold-out crowds at some of the top theaters in the country: New York's Public Theater, Washington's Woolly Mammoth; Minneapolis' Guthrie. The show, a monologue in the tradition of Spalding Gray, is an ever-evolving, excoriatingly funny look at the Donald Trump phenomenon—and the liberal complacency that helped create it.
But soon the show will be obsolete: Either Donald Trump will be our president, or he'll be a footnote. So Daisey is giving The Trump Card a Viking funeral back in New York, and Slate is streaming his final show live from Town Hall on West 43rd Street. Leave this tab open and come back at 8:00 p.m. Eastern time Tuesday, and you can watch the monologue the Washington Post called "hilarious and chilling," free, right here on Brow Beat. (We'll also be streaming it on our Facebook page.)
Miss the livestream? No problem—we'll archive the production right here so you can watch it anytime. Enjoy it as a cautionary tale or a light comedy to brighten future dark days. Or just watch an expert performer doing what he does best—telling a complicated story about our lives and times.
The Trump Card is directed by Isaac Butler. The live telecast is executive-produced by Ayana Morali.