Broad City Gives Hillary a Cameo, Gleefully Skewers Sexism Directed at Her Campaign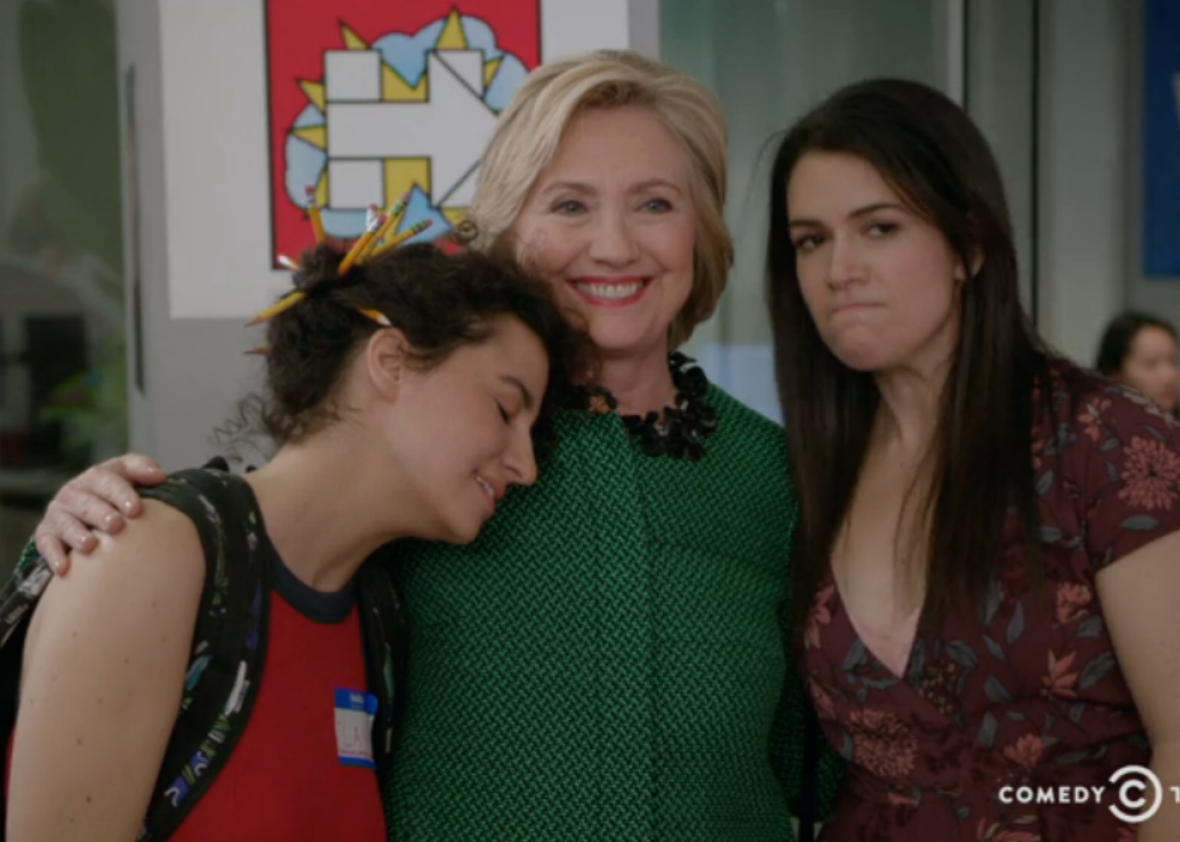 On Wednesday's Broad City, Ilana struggled to find a new job while Abbi faced a similarly uphill battle while trying to renew her driver's license. In typical Broad City fashion, both missions turned into chaotic, hilarious romps through New York City, but Ilana's ended at her personal Mecca: the Hillary Clinton campaign. Luckily for Abbi, she arrived at headquarters just in time to join Ilana for an awe-struck introduction to the "future presidentress of the United States" herself, who made a cameo at the end of the episode.
The episode was packed with guest stars—including Rachel Dratch, Cynthia Nixon, and Alan Alda. But Hillary's arrival on screen was the episode's crowning moment. Clinton's performance was typical of her previous comedy work: endearing, as she's clearly out of her element. As the girls sputter and "yas" in her general direction, Hillary reacts as one might imagine she would in real life—with awkward but sincere appreciation. Cameos like this and her work on SNL and Fallon are some of the most charmingly relatable glimpses we get at the usually polished politician.
Clinton's presence in this episode was, in many ways, more than a cameo. The episode has a pretty clear, enthusiastic message about Clinton, and her appearance at the end is just a small part of it. When Ilana starts working on her campaign (under the false assumption that she's an employee, and not a volunteer) she starts to hear about the struggles Clinton's campaign has faced—particularly while making cold calls. And many of them read as … extremely sexist. Volunteers answer repeated questions about whether Hillary cries at the office, whether she can read a map, and naturally, whether she is a witch.
In the end, Ilana must seek new employment that actually pays, but she vows to Clinton, "to tweet once a week, 'Vote for Hillary, yas yas yas.' " And from the looks of it, despite Abbi's statement that this episode should not be seen as a political statement, real-life Ilana is on the same page as her character:
so proud to rep you on our show @HillaryClinton. twas a dream come true! let's go get that primary 👊🏽 we're close

— ilana glazer (@ilazer) March 17, 2016