M.I.A. Charts the Journey of Refugees in the Terrific Music Video for "Borders"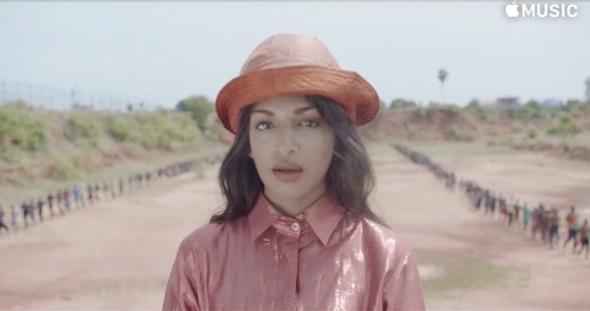 Last week, M.I.A. released a new single, "Borders," and she's now shared the song's excellent music video, which she directed and which starkly confronts the world's burgeoning refugee crisis.
The video sees the singer stand in front of lines of men who climb over fences, cram into boats, and generally act out the torturous route some emigrants take to sanctuary. This all accompanies some repetitive, intentionally simplistic lyrics ("Borders, what's up with that?/Identities, what's up with that?), which, even for M.I.A, are incredibly charged with political energy. That makes sense: The singer's own family consists of Sri Lankan refugees, and in a recent tweet she dedicated the song to her uncle Bala, "one of the first Tamil migrants to come to the UK." M.I.A.'s camp has confirmed that "Borders" is from her forthcoming fifth album, Matahdatah, but the record's release date hasn't yet been set.