Amy Schumer's HBO Special Live at the Apollo Was Funny—but Frustrating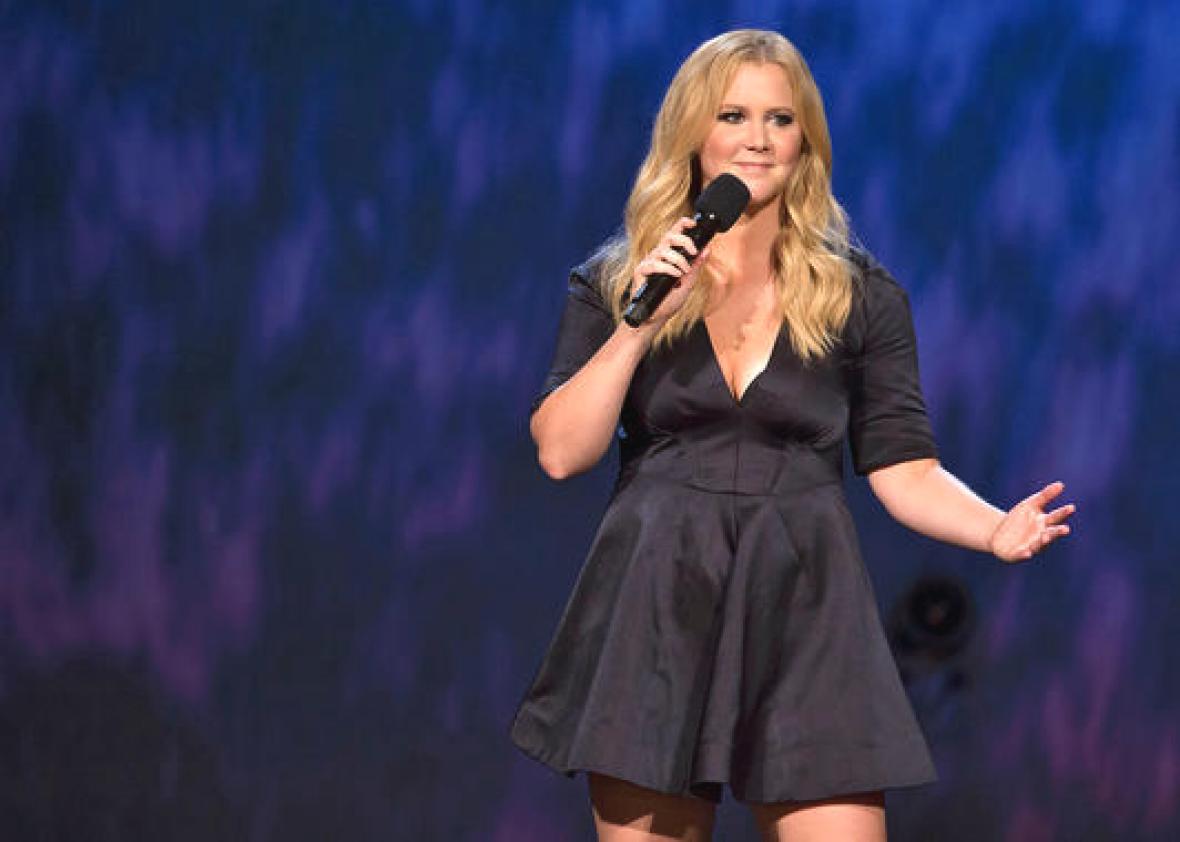 Amy Schumer has had an ascendant year. She starred in the romantic comedy Trainwreck, her collaboration with Judd Apatow. Her incisive, hilarious sketch show Inside Amy Schumer had its third season on Comedy Central and won an Emmy. She gave some empowering and hilarious speeches, hosted SNL, opened for Madonna, and became besties and collaborators with Jennifer Lawrence. On Saturday night, she premiered her first HBO stand-up special Amy Schumer: Live at the Apollo, a pretty good set that, in this Schumer-saturated year, feels disappointing: decent, funny, inessential.*
Coming out onstage with an open bottle of wine (it may have been filled with water: playing the sloppy chick is part of her act), Schumer asked the crowd to "get up!" and then pretended she was touched they had stood of their own volition. Onstage, Schumer is always confident—the kind of egoist who would thrill to a standing ovation that she asked for. This self-love bordering on narcissism is her persona's secret ingredient. When Schumer takes on double standards, like Hollywood's obsession with skinniness, she never seems pained or hurt by them (even though, being human, she has been pained and hurt by them). Instead, she swaggers through them, too ineluctably her raunchy, self-obsessed, sex-positive self to do anything but crack razor-sharp joke at the hypocrisy.
Slicing up double standards was at the heart of her set. She looked at the absurdity of Kevin James getting to bang Rosario Dawson in a movie like The Zookeeper. (Schumer's special contained material she's been developing on the road, which is how comedy tours work. But the Kevin James bit has been circling around for months now, which, unfortunately, makes it a little less fresh. Similarly, the phrase "catch a D" is funnier the first time you hear it.) She joked about how she's been described as a sex comic, while a "male comic could pull his dick out and they'd be like 'he's a thinker.' " She talked about the expectation that she lose weight to star in Trainwreck, a process that involved a trainer and the mandate to "stop eating food." Schumer gamely attempted to develop a "a late in life eating disorder"—she is a white girl, she pointed out, after all—but ultimately could not.
As funny and scathing as much of this is, there was a sloppiness to the stand-up that doesn't quite exist on the scripted Inside Amy Schumer, which has also become more overtly feminist during its three season run. Schumer often makes fun of both herself and of gender standards, which can be a cannily self-deprecating way of skewering the status quo, but sometimes just seems like an inadvertent upholding of it. Schumer's entire bit on Hollywood's weight obsession, which contained the observation that she was thrilled to hear another woman described as "the fat Amy Schumer," is the former: She's calling herself and the standards out in the same punch line. But Schumer also made fun of her childhood self for not shaving above her knee, so she looked like "Benicio Del Toro," as though a fifth grader who doesn't hew to adult grooming standards is the problem. She describes UTIs as embarrassing, when, really? And she talks about how now that she's 30, she loves construction workers cat-calling her. "I really appreciate that shit now," she says, as though she too believes in the existence of a woman's "last f--kable day."
*Update, Oct. 19, 2015: This post was updated to clarify that this was Schumer's first stand-up special for HBO.