The Weeknd Remixes "The Hills" With Nicki Minaj and Eminem, Makes Depravity Sound Amazing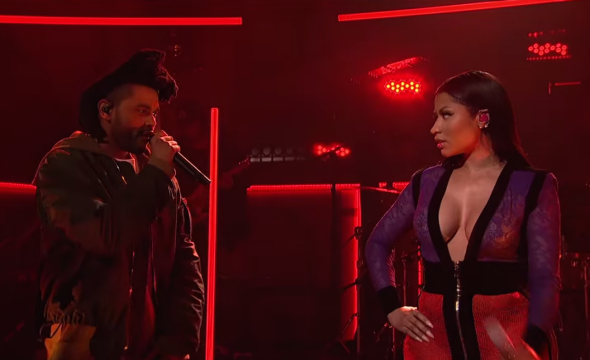 Just before he performed "The Hills" on Saturday Night Live, the Weeknd (aka Abel Tesfaye) released two remixes of his chart-topping banger: one with Nicki Minaj, and the other with Eminem. The original song isn't exactly shy ("I only fuck you when it's half past five ...), and Em's and Nicki's verses add intensity to its steamy lyrics.
Nicki Minaj only has one verse in her remix, but she owns the track with an opening line that's impossible to forget: "Remember that time I showed up with just panties under my coat?" As for Eminem, his remix contains two much-longer verses with characteristically caustic lyrics: "But tonight we don't need those pills, just the effects of each other, but we gon' film 'cause I want your ex to see ..." The song's ominous, slow-build backbeat supports both guest artists well, and Tesfaye's stirring chorus compliments them both.
Minaj even joined the Weeknd on SNL for a guest performance that ends with him (fittingly) bowing down to her; watch the full video below.