In News That Is Real and Not a Joke, Pope Francis Released a Hot New Pop-Rock Track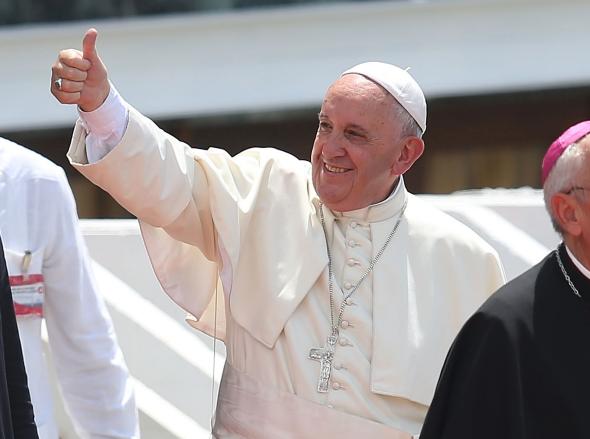 Pope Francis, aka "Cool Pope," just got even cooler: He's dropped a hot new pop-rock song, "Wake up! Go! Go! Forward!" which will appear on his forthcoming pop-rock album Wake Up! The song samples a speech the Pope gave in South Korea (in English) last year, and was composed by Tony Pagliuca, founder of the '70s prog-rock band Le Orme—hence its sweeping, rock opera-sound. The rest of the album will feature the Pope speaking in English, Portuguese, Spanish, and Italian, and will "address issues like peace, dignity, environmental concerns, and helping those most in need," says Rolling Stone, which premiered the lead track. You can listen to it here.
No word yet on whether or not Americans can expect a live performance during the Pope's current East Coast tour—but the Vatican-approved album drops November 27, just in time for your holiday shopping.