Jon Stewart Began His Last Week on The Daily Show With a Hilarious Amy Schumer Interview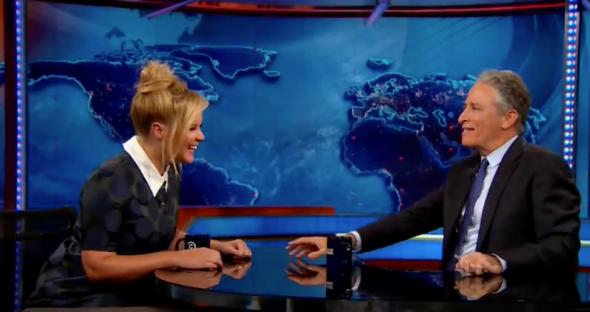 Alas, Jon Stewart's last week as host of The Daily Show is finally, totally, irrevocably here. Thankfully, Stewart has a plethora of comic talent lined up for his last four nights, and on Monday he brought Amy Schumer—who turned down the opportunity to succeed him—to the desk for a lively, discursive chat.
The pair started their talk on a bleak note, discussing last month's tragic shooting at a Trainwreck showing in Lousiana—a shooting that Schumer, along with cousin Chuck Schumer, somberly addressed in a press conference pleading for stricter gun control laws. But the conversation soon turned to lighter fodder: Stick around for Schumer's story, told with typical flair, about the very funny shenanigans she, Jennifer Lawrence, and friends got into during a recent weekend in the Hamptons.