Why Do Some Impressions Offend, While Others Flatter?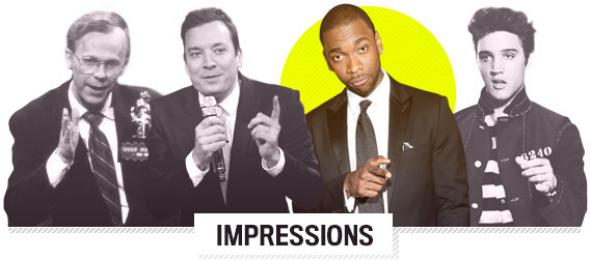 For his new novel The Poser—about a young man with an uncanny knack for imitating others—Jacob Rubin spent a lot of time thinking about what makes impressions work. Pegged to the release of his novel this month, Rubin will be doing a weeky series for Brow Beat on the art of the celebrity send-up. Read the rest of Slate's Impressions series here.

Like many maxims, "Imitation is the highest form of flattery," exists, it seems, to quell the suspicion that the opposite is true. Impressions, of course, vary in tone. Some feel gently reverential, others openly cruel, while many hover in a squirmy turf between, partaking of both ridicule and homage. If there's any doubt to the lurking awkwardness of mimicry, one need only consult the familiar comedic set-up whereby the impressionist appears next to the imitated. Just watch SNL's Jay Pharoah doing ESPN commentator Stephen A. Smith in the clip above, with Smith at his side.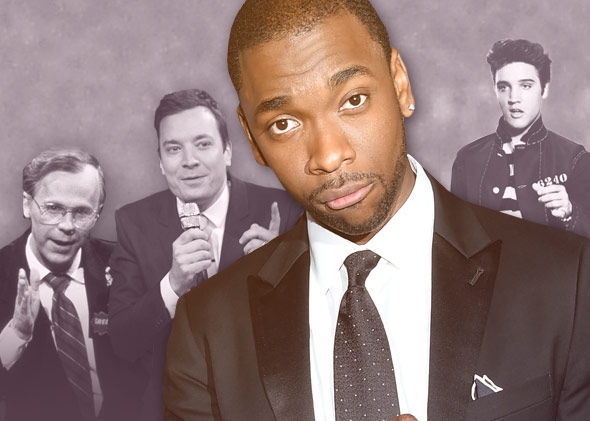 Pharoah nails Smith's farcically indignant approach to commentating. It's all in good fun, but the unheimlich still pervades, especially around 3:30 when, as Pharoah launches into yet another improvised Smith riff, the actual Smith shakes his head, muttering "This is bad, man."
As I argued in my first post, the best imitations seem to work from the inside-out. The mimic has been sufficiently moved or amused by the person's manner to give impersonating them a go. Not surprisingly, the celebrity impressionist Jim Meskimen recommends selecting someone you admire. Actor Simon Helberg has said that he began to imitate Nicholas Cage after being repeatedly told that he looked like the guy.
And yet what begins with identification doesn't always end happily. Indeed, the paradoxical effect of the impression is to honor what was original, idiosyncratic, or exceptional by making it—through mimicry—less of all these things. Christopher Walken, the Thelonious Monk of English elocution, has long been a favorite, even staple, of impressionists. No doubt this fondness derives from a love for the great actor, but it also very literally kills the man's uniqueness. His cadence, after all this duplication, starts to look like an affectation, or algorithm. Just as passage into cliché both immortalizes and deadens a turn of phrase, an imitation seem to "retire" the imitated as a living person by reducing him to a formula, the specs for which can be simply downloaded.
Something of this dynamic is at play in the following clip from the Late Show.
To my eyes, the Scarface star looks embarrassed, even exposed, when imitated by Kevin Spacey. About a minute in, Pacino meekly attempts to hide behind his scarf. While this is clearly meant to be playful—and Spacey makes a point of embracing Pacino at the end—how can it not reduce Pacino to a grab bag of tics? This is the strange arc of mimicry, a kind of killing with kindness (in both senses of kindness): we seek retribution against that which has committed the crime of being interesting.
This homage-ridicule combo is most palpably felt in the immortal impressions of Eddie Murphy. Murphy's strange genius is to animate—and embody—characters strictly to punish them. In his 1987 special Raw, Murphy popularized what would become the Modern Guido:
The voice, like all of Murphy's, is spot-on. The celebration of "Sly" at 1:14—the pumped fist, and the perfectly altered, earnest, almost boyish voice—captures the long-unfulfilled yearning for a strong Italian figure finally answered. You can feel Murphy loving being the Italian guy—you can imagine him doing this for fun, at home. And yet, all of his understanding is a mere set-up for the punch line at the end of the clip, when the Italian is brutalized (chocked nearly to death "with a box of Jujyfruits rammed up his ass").
It's a common Murphy arc, one with two twists: He presents an unlikable character, humanizes him, then smacks him down. Take this obnoxious kid in Delirious:
Again, the sheer toothy joy of the bragger makes him surprisingly amusing, lovable. Then his ice cream drops to the ground.

This pattern is tellingly disrupted, however, in Murphy's impression of his father. In case there was any doubt about Murphy's attachment to this imitation—or is inability to shake it—consider this: The father bit appears in both of his stand-up specials, Delirious (1983), for roughly ten minutes, and Raw (1987), for twelve, where it earns the coveted spot of closer.
The snippet is a masterful impression, maybe Murphy's best. The weird, lisp-y machismo, the "h" inserted in the s of "so what," the "r" inserted after the b in "beautiful": the details are exquisitely observed, capturing the doomed, subjunctive mood of drink. The father mistakes the prison of alcoholism for a kind of a freedom, sputtering on endlessly. In fact, the very spaciousness of the imitation—you feel Murphy riffing, improvising between written beats he has to hit—mirrors the dubious spaciousness booze afforded his dad. It begs the question: is the imitation an exorcism or an entrapment?
The bit follows the established pattern of the Rocky and ice-cream narratives, with a key exception. As in the previous set-ups, an unlikeable character is humanized, but in this case he isn't ever punished. In Delirious, the impression concludes with Murphy's father driving everyone from his house. In Raw, it ends with the father tearfully remembering a slinky he had to eat.
Here the anxiety of influence latent in most imitations has become explicitly oedipal, but it's an oedipal conflict that is unfinished. Perhaps Murphy's inability to "ram Juijyfruits" up his father's ass, as it were, keeps him returning to the man, the imitation an arrested, ambivalent revenge. It, like all imitations, is never really complete, always spurring more of itself. And I would venture to guess that Murphy—who hasn't done filmed stand-up in years—when alone, still slips into being his dad.
Photo illustration by Natalie Matthews-Ramo. Photo credits: Dana Carvey as George Bush by Alan Singer/NBC/NBCU Photo Bank via Getty Images, Jimmy Fallon by Theo Wargo/Getty Images for The Tonight Show Starring Jimmy Fallon, Jay Pharoah by Larry Busacca/Getty Images, Elvis Presley/ Metro-Goldwyn-Mayer, Inc./Library of Congress.