Kanye West Says Taylor Swift Supported Grammys Interruption, They're Recording Together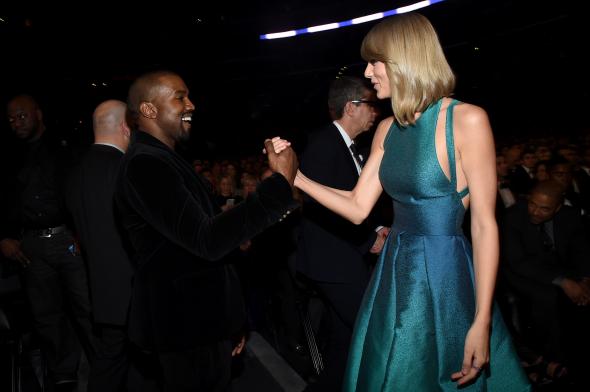 It's felt like 2009 all over again ever since Kanye West stormed the stage once again at the Grammys on Sunday night—and then stepped off without saying a thing. But now West says there's one more key difference: Taylor Swift supported him. In a radio interview with Ryan Seacrest this morning, he first explained why he decided to jump up on stage:
What I really wanted to do was just joke around with what had happened before, but I just really didn't want to take away from Beck's moment or the time he's having to talk. … It was kind of a joke, like the Grammys themselves.
He also emphasized that he meant no disrespect to Beck, whom he calls "one of the nicest guys and one of the most respected musicians in the game," and pointed out that the interruption only brought Beck's album more attention. But the real surprise came when he spoke about what Taylor Swift told him after the show:
Taylor Swift came up to me right afterwards—literally right afterwards—and tells me that I should've went onstage. This is the irony of my life.
He also announced he and Swift are "definitely going to go" into the studio together.

Finally—after he issued a caveat that he knew everyone would call him crazy for speaking in the third person—he said this:
It's very hard for Kanye West to not be vocal and true to what he feels.
I think that's one thing everyone can agree on.