Last Night Was Larry Wilmore's Best Episode Yet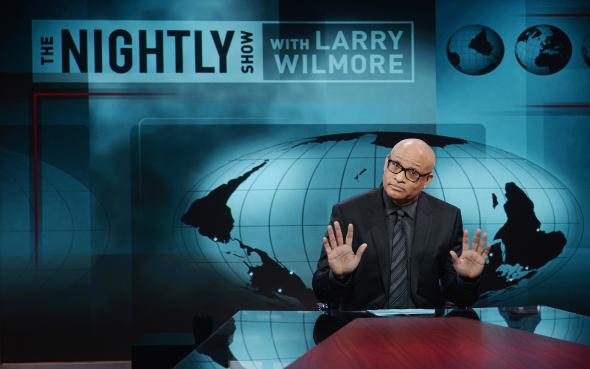 The general response to The Nightly Show with Larry Wilmore has been warm, if not passionately glowing. As Willa Paskin wrote of the show's first week: "Though stated with rare force, these positions are not in and of themselves unique. And yet there has previously been no black perspective on late night to take these subjects on with such matter-of-fact vigor." The very first episode focused on "The State of the Black Protest." And since then, Wilmore has been trying, as he has said, to be a mashup of The Daily Show and Politically Incorrect—with a distinctly black voice. (See, for example, the barbershop-like nature of the "Keep It 100" segments.)
But last night's episode on black fatherhood was the first time the show fully managed to distinguish itself from the shows that inspired it. This time, Wilmore skipped the opening monologue to dive directly into this fraught issue with his panel of guests: Common, New York Times columnist Charles Blow, Center for Urban Families founder Joe Jones, and Nightly Show contributor and comedian Mike Yard. The result was an episode that balanced humor and seriousness deftly, and offered an engaging discussion rarely heard on a major TV network.
Wilmore started the discussion by throwing out a recent stat—that 72 percent of black American babies are born out of wedlock. And each panelist went beyond the standard talking points about absent fathers and single mothers, attempting to dissect what those numbers really mean. Blow pointed out that the uptick happens to coincide with the rise of the U.S. prison industrial complex and the War on Drugs; Common suggested that census data on "unwed" mothers "doesn't mean that the father is absent."
Wilmore volleyed the conversation effortlessly, and because the subject matter was so deeply personal to him and his guests, the scene was intimate and natural, almost like you were dropping in on a conversation you'd hear on the street, or at a dinner party. Not every episode will be like that, of course, (nor should it be, since a little genuine tension never hurt a panel discussion). But this kind of dynamic is what makes The Nightly Show feel like something we've rarely seen on TV.