Philip Pullman's New Audiobook Is a Magical Return to the World of His Dark Materials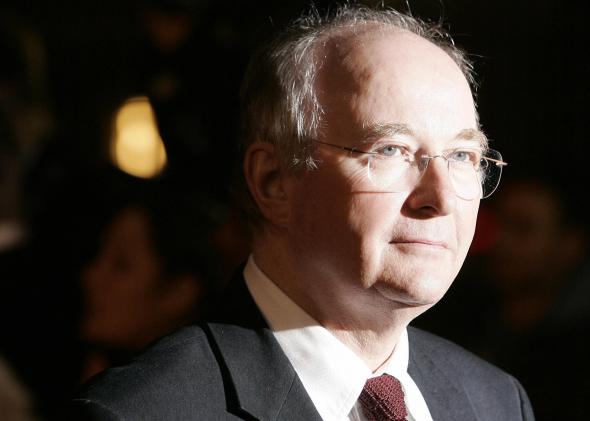 Since The Amber Spyglass, the final book in Philip Pullman's His Dark Materials trilogy, arrived in stores in 2000, the British author has slowly expanded his fantasy universe. In 2003, he released the short book Lyra's Oxford, and in 2008, the novella Once Upon a Time in the North. On Monday, he made his newest addition to the lore of innumerable porous worlds lashed together by dust and magic, and he dropped it in an unexpected place: Audible, Amazon's audiobook arm. (This in a week of Spike Lee launching a movie on Vimeo, and following the year of the surprise, direct-to-iTunes album release.)

The Collectors is set in "our" Oxford, in the 1970s, and concerns a conversation between two gentlemen that steadily and chillingly goes awry. Fans of His Dark Materials will recognize the paired artworks the men are discussing: a portrait of "a fair-haired young woman with the most extraordinarily ambiguous expression"—at once coldly disdainful and "on fire with yearning"—and a bronze statue of a monkey, its face savage with "greed and brutality." The two pieces have an eerie tendency to end up in the same collection, though they are often purchased, won, or gifted separately. And while certain characters thrill to their curious otherworldliness, the saner ones want to see the painting burned and the sculpture destroyed.
As The Collectors moves from the fellows' lounge (where the art is invoked but unseen) to one of the men's personal lodgings (where he keeps the items), they learn more about the woman's identity (which, hint: Nicole Kidman), and the metaphysics of Pullman's universe. The knowledge, of course, may come at a price. Pullman's gift for atmospherics—the old-fashioned, firelit recesses of academia (think brandy and mahogany and deep armchairs), the "fine freezing rain" and foreboding darkness outside—is on full display here, as is his humor ("'I think I must be drunk,' a character announces "with great clarity") and knack for Gothic flourishes. (No one should be surprised that the painted lady's expression shifts over time, or that the monkey statue has a history as a murder weapon.)
Who should listen? Fans of The Goldfinch might enjoy a magical take on Tartt's themes of greedy connoisseurship, artistic appreciation, and cosmic coincidence. Fans of velvety British accents will definitely lap up Bill Nighy's delightful narration, which is the aural equivalent of dipping a heraldic crest in milk and eating it. Anyone who is struggling to pass the time until The Book of Dust, a longer novel set in the same universe, comes out untold months from now may be temporarily sated. (To those impatient souls, Pullman said Monday that his draft was "three pages longer this morning than it was this time yesterday, and … I'll do another three pages today … It's a long process." Great!)

In closing, I'll note only that the intimate audiobook format seems well-suited to the coziness of The Collectors' Oxford setting, its use of conversation as a plot device, and the close-to-the-bone-ness of its sudden reversals. Further observations must wait: A distant mechanism has begun to quietly whir, the chapel bell just struck, and an odd shimmer lies on the air …