Dipset Return With Their First New Song in Years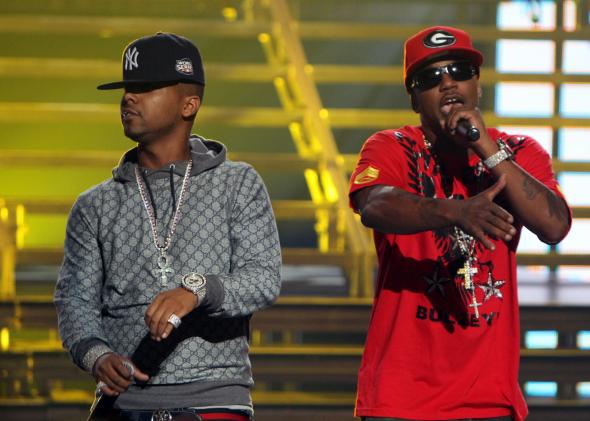 Dipset, the Harlem hip-hop group that ran New York rap for a short-lived but memorable time in the early 2000s, haven't released a song together since 2010's "Salute." Since that reunion track, the future of the group—Cam'ron, Jim Jones, Juelz Santana, and Freekey Zekey—has remained at a standstill, with rumors of a new album never panning out. But after last year's Cam'ron and Juelz collaboration with A-Trak, "Dipshits," it now appears a real reunion is set for 2015. The group has announced, via DJ Funkmaster Flex, a new mixtape to be released later this year along with a brief tour. They've also unveiled a classic-sounding new track, "Have My Money," their first new song in almost five years.
Unlike the high-octane AraabMuzik-produced "Salute," "Have My Money" sees producer Vinny Idol delivering the kind of smooth, throwback beat that defined the group's sound a decade ago. And the chemistry's still there: The MCs trade comical verses that speak to their unique personalities—and exploits ("I ain't talking music when I say I did shit with Mariah," brags Cam'ron)—and unite under their popular ad-lib, "It's Dipset, bitch!" Also still going strong is Killa Cam's ability to steal the show—this time with a reference to his Ebola mask scheme ("Just made a quarter mill' off Ebola, what's up?").