Watch SNL's Very Meta Mashup of The Office and The Hobbit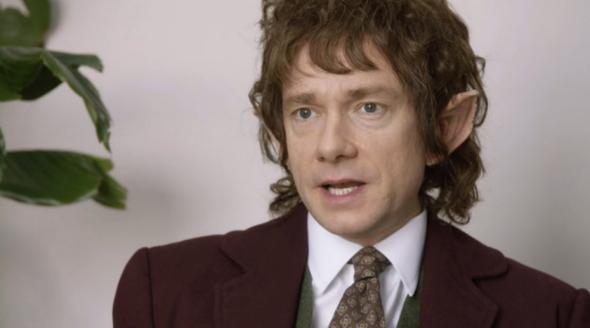 It's always astonishing, if not a little obvious, just how much better SNL works when the host is a veteran performer, one whose chops can camouflage or even redeem uneven writing. Martin Freeman lead the show last night, and though he's the least-known of SNL's hosts this season, he's also an impeccable, vastly underrated character actor who can imbue his straight-man guise with darkness, levity, or intelligence as required.
It makes sense, then, that the episode's best sketch turned on Freeman's ability to juggle many personas at once. "Hobbit Office" combined two of Freeman's biggest roles—Bilbo Baggins in The Hobbit movies and Tim Canterbury in the U.K. version of The Office—to brilliant effect. This mash-up has been done before, but SNL's take is miles better, a rich and densely referential piece of comedy that plays on Canterbury's constant pranks (he's the basis for Jim Halpert) and some very funny similarities between Gollum and the Gareth Keenan/Dwight Schrute character.
On a different note, quick poll: Is Kate McKinnon officially the best cast member on SNL? I don't remember the last time McKinnon didn't steal a sketch she was in, and SNL's 40th season may well be remembered as her breakout moment. In "Wedding Objections," which has Freeman and Leslie Jones get married to the disapproval of everyone in attendance, McKinnon employs an old lady impression that's so good Jones breaks character for a good three seconds or so.

Next week's episode, hosted by Amy Adams, will be the last of 2014.*
*Correction, Dec. 14, 2014: This article originally misstated that the episode hosted by Amy Adams would be the last of the 40th season.