President Obama Filled in for Stephen Colbert on The Colbert Report Last Night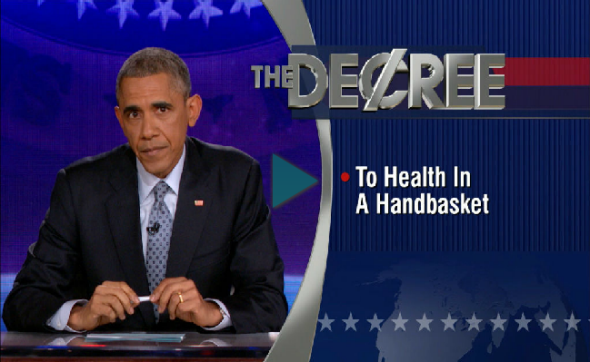 We are less than two weeks from the end of The Colbert Report, and Colbert has been pulling out all the stops. Last night, he scored just about the biggest late-night guest you can get—President Barack Obama—but Obama wasn't content to stay on the other side of Colbert's desk (or so went the setup).

So Obama took over Colbert's longest running segment, The Wørd. Except, because it was President Obama, the name of the segment was changed, to The De¢ree—a name that may or not have been a joke on the president's recent executive orders. There were also jokes about Obama's approval rating, his supposed inability to speak without a teleprompter ("I, Stephen Colbert, have never cared for our president," he begins), and his rapidly aging appearance. All around, the segment—like Obama's appearance on Between Two Ferns—allowed him to make fun of his image while delivering a more important message about the recent success of healthcare.gov. Especially to young people, who, Obama said, "don't watch real news shows like this one." ("Or fake ones like Fox," read the on-screen graphic.) As a piece of comedy, and as a piece of politicking, it was pretty effective.