How Molly Shannon Helped Get Saturday Night Live on Its Feet Again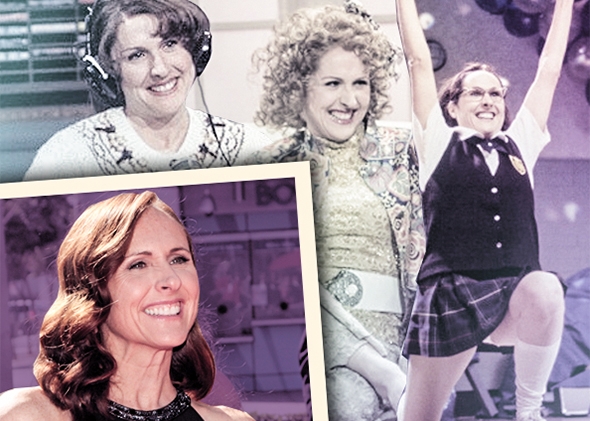 The 1995-96 season of Saturday Night Live was the first rebuild year after a virtual talent cleanout. Writer-wise, practically everyone was gone except the funniest heavy hitters, including Jack Handey, Al Franken, and Jim Downey. Norm Macdonald stayed, along with David Spade, but almost all cast and writers were brand new, and none of us knew what we were doing. Will Ferrell, Adam McKay, Dave Koechner, Cheri Oteri, Nancy Wall, and Molly Shannon were just a few of the new faces. Also, during a rebuild year, no one famous is interested in hosting, so the pressure to create unforgettable characters is enormous.
One day I was looking at a Learning Annex magazine trying to find inspiration—remember, this was pre-Google, so print magazines were a common source of material for sketches—and I noticed, in the back section, this woman advertising herself as a "Joyologist." It was crazy to me that someone would consider herself an expert in joy. I couldn't imagine what she would be like, but anything that sounded that insane would have to be hilarious.
Maybe it was Molly's natural child-like curiosity and optimism that made her the perfect candidate for the character, or maybe she seemed right because we had bonded during the preceding couple of years—truthfully, I can't remember exactly how it unfolded, or how the catchphrase "I love, it I love it, I love it," evolved. But it was a perfect synthesis.
The Joyologist character had an unusual journey, popping up as a guest on several talk show sketches before finally settling into her ideal residence. She originally debuted in a sketch called "Single and Loving It," when Lisa Kudrow hosted. Then she was on "The Learning Annex" when Samuel L. Jackson was the host. (Sam Jackson, by the way, is as cool as you think he is.) She finally found a permanent home on a talk show called Pretty Living. The first time we did it there Julianne Moore hosted. She was hilarious—and Molly, such a fantastic physical comedian, and so in the moment, wasn't going to walk off that stage until she'd left it all on the field. It got to the point that we knew we had to keep the sketch on the short side, because of what Molly was going to add once she got in front of the audience. One time she was kicking so hard she went backward in her chair. The chair fell over, and the crowd went crazy. The rest, as they say, is history.
Talent aside, one of the best things I liked about working with Molly was how she didn't get caught up in the part of the job that could make you bitter or angry. Even when she was getting sketches cut between dress and air—which is about the hardest hit you can take during a show week—she handled it with so much grace and dignity. She'd chalk it up to one of the occupational hazards of working on SNL and she'd get ready to start over the next week.
Molly's path to SNL was impressive. She was scrappy and relentless. She did these crazy one-woman shows, and in between shows she would gather lists of names and phone numbers to ensure that when she did the next show she would have a full house. Again, pre-social media—that means thousands of tiny pieces of paper and business cards. She performed on these little stages in Santa Monica—climbing the rafters in characters she'd created. I'm still not sure how Lorne even found her.
I remember standing on the floor next to Fred Wolf, head writer, and Mike Shoemaker, associate producer, during one of our first shows. Molly had just performed Mary Katherine Gallagher for the first time. Her physical fearlessness and that quirky, sympathetic character turned the audience on its ear. Fred turned to Shoemaker and me and said, "I think we have our first breakout character." Molly was going to have many. And I was fortunate enough to have one of them be mine.