Pusha T Is out to Take His Competitors' "Lunch Money" on New Kanye West–Produced Track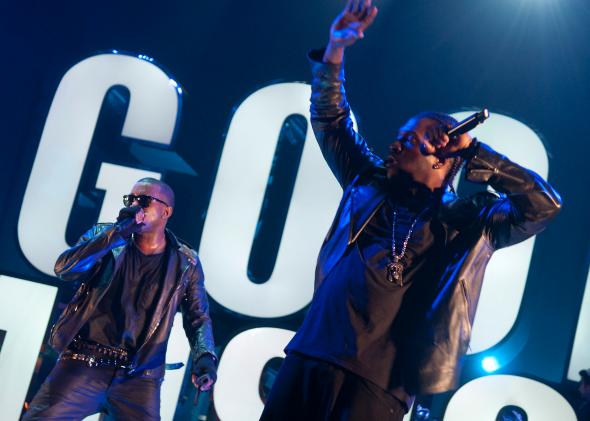 Last year, Pusha T released his long overdue debut solo album, My Name Is My Name, one of the best albums of 2013. He's spent most of 2014 in the studio with Pharrell and Chad Hugo—better known as the Neptunes—cooking up its follow-up, King Push. (He also briefly emerged earlier this year with my favorite verse on Future's "Move That Dope.") When that album will drop is anyone's guess, but a newly released song hints that it might be closer than we think. Last night, fans spotted a new Pusha T song called "Lunch Money" in the Google Play store that seems to have been uploaded accidentally (it was removed shortly thereafter). But, according to Funkmaster Flex, who premiered the song today, it's legit. And it finds Pusha T completely locked-in over a bonkers Kanye West–produced beat.
"I'm the only dope boy quotable," Pusha says in the song's first verse—a reputation he's maintained since he first declared himself "yo' pusha" on Clipse's "Grindin'" over a decade ago. And he keeps up his typically brash lyrical onslaught for the whole of "Lunch Money": "If the crown ain't mine, tell me who am I behind?" he raps. Pusha's verses alone would have been enough to make this stand above most of the rap tracks I've heard this year, but Kanye West's brilliant, unpredictable production elevates Pusha's rhymes even further. The beat is a Frankenstein's monster of noises that sound like they could've been sampled from the Nintendo game Pusha references (Contra) and slides after a couple of minutes into an old-school hip-hop–flavored sample. (Spin notes the sample could be Gang Starr's "Just to Get a Rep").
It's a credit to Pusha's technical finesse that he was able to even match his flow to such a warped instrumental. If this is what King Push has in store for us, get ready to empty your pockets.